Posted by: Shaun Dolence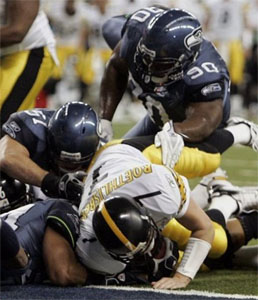 Did anyone else have an eerie flashback to Super Bowl XL when Ben Roethlisberger scrambled just shy of a touchdown in the first quarter of yesterday's game? Roethlisberger dove for what was called a touchdown on the field, but later reversed after a booth review.
Somewhat ironic and very similar to what happened a few years ago against the Seahawks – well, except for the time in the game that it occurred. In both scenarios, Ben dove for the end zone, and in my opinion, came up short. Yes, I'm still bitter and not willing to get over it. Both times the play went to the booth for a review, and only one time was the play reversed.
The Cardinals were assisted by several booth reviews during the game, but this one sure did hit home. I cringed as Al Michaels made reference to the happenings of Super Bowl XL, and commented as to what Mike Holmgren must be saying: "Now they get it right?"
I believe that the officials did get the call right (after review) this time around, but it made me think: what if? What if Roethlisberger was rightfully called down just shy of the goal line? What if the Steelers opted to go for a field goal instead of getting a touchdown before half?
I've heard it several times from Steelers fans – "It doesn't matter if Roethlisberger got in or not, we would've just gone for it on fourth down and the Bus would've got in." Yes, I understand that Cowher is out and Tomlin is in. Yes, I understand that Jerome Bettis is retired. I understand that this is almost an entirely different Steelers team. But even with all that said, what if?
What if the Steelers kicked a field goal at half, like they opted to do in Super Bowl XLIII? Or even more compelling: what if the Seahawks found a way to stop them on fourth and goal had they gone for it?
I can't believe I'm still dwelling on these things three years after the game has been over. But seeing that play unfold and then get challenged just brought back a lot of memories. Definitely open for comments, I'd like to hear what other Seahawks fans were thinking when they saw Roethlisberger get stopped short.
Tags: Arizona Cardinals Ben Roethlisberger Pittsburgh Steelers Seahawks Super Bowl XL Superbowl