Posted by: Shaun Dolence
Over the next few days, I plan to compose a "wish list" of sorts for the upcoming free agency period. Not organizing the list in any particular order, I will try and layout the potential for some big names to land in Seattle for next season. Keep in mind, this is quite early in the process, so some of these names you'll read about may disappear due to franchise tags or new deals worked out with their current teams.
It should be fun, however, to look at some of the potential talent that will enter the free agent market this offseason. Regardless of the Seahawks cap situation (and their decision on Leroy Hill), I'll press forward even though some of these names may be out of the Seahawks' grasp due to money.
Player: Albert Haynesworth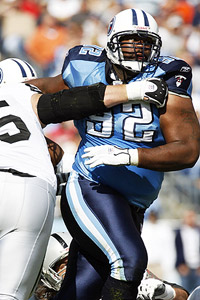 The Reason: Big. Dominant. Pro Bowl. Type any of these words into a search engine and it is likely you'll see Haynesworth's name pop up somewhere. Before injuries somewhat derailed his production near the end of this past season, Haynesworth was a frontrunner to win the NFL's defensive player of the year award; possibly the first defensive tackle to win the award since Warren Sapp in 1999. It seems as if the Seahawks are looking for that big force in the middle of their defensive line every year, and bringing in Albert Haynesworth would immediately remedy that situation for the foreseeable future.
Haynesworth will immediately improve a team's defense no matter where he chooses to sign. He is such a powerful lineman that he relieves pressure off of others and commands the attention of the opposing offense. Could you imagine how the production of our other defensive linemen (a healthy Patrick Kerney) would increase if Haynesworth always warranted a double team? Or with such a big, dynamic body in the middle, how much more active would our linebackers become? Hell, I would be able to make good reads playing behind Haynesworth.
The Problem: It is likely, unfortunately, that Haynesworth is either franchised by Tennessee or works out a new deal with the team. And even if he does reach the free agency market, the demand for this guy would be unreal. The writing in this entry is rather ambiguous, because it could be from any team's perspective: the Seahawks aren't the only defense who would benefit from bringing in a dominant defensive tackle.
With demand comes a high price. And if Haynesworth hits the open market, he'll likely be the most highly sought after free agent in recent memory. This means that a handful of teams will throw loads of money at him, even in the current economic environment – I'm not sure the Seahawks will be able to keep up. I can't speak for Albert Haynesworth's personal motives, but I'm assuming he wants to get PAID. And unless the Seahawks have something else that interests him, he'll likely be persuaded to take his services elsewhere.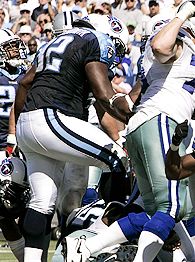 Another issue with Albert Haynesworth is his character. His name hasn't surfaced in news recently, but it was only a few years ago that he was suspended five games without pay by the NFL for his on the field incident that you've probably seen on YouTube by now. You likely remember what happened; Haynesworth was caught on video removing Dallas Cowboys' center Andre Gurode's helmet and stomping at his face a couple of times, resulting in Gurode receiving thirty stiches just above his right eye. I know that Haynesworth has since apologized for the incident and appears to have cleaned up his act, but you have to think that Ruskell will take his history into account before committing a large chunk of cash to this guy.
Bottom Line: If the Seahawks sign Albert Haynesworth, I will be one happy fan. Bringing him into Seattle would no doubt improve the play of other defenders and could result in a dominant defense next season. The only problem is Haynesworth's price tag. The Seahawks have several big contracts already, and more that will start hitting them hard in 2010. Paul Allen will really have to shell out the money to bring Haynesworth in, but it might not be the smartest move for the team financially.
Other Options: Jovan Haye (Buccaneers), Kedrick Golston (Redskins), Shaun Cody (Lions), John Thornton (Bengals)
Tags: Albert Haynesworth Andre Gurode Defensive Tackle Franchise Tag Free Agency Paul Allen Seattle Seahawks Tennessee Titans Wish List