Posted by: Shaun Dolence
According to an Atlanta Falcons blog, Michael Vick to Seattle is a possible scenario. Atlanta's general manager, Thomas Dimitroff, recently acknowledged that the Falcons are seeking to trade the rights to suspended quarterback Michael Vick. And apparently, the trendy destination is Seattle – from bloggingdirty.com:
Vick goes to Seattle, where he is coached by Jim Mora Jr. whom had the most success in coaching Vick in his professional career. The way I see things the Seahawks need to make a splash this coming season because of their astonishing fall from grace in the NFC West.

Vick is the kind of guy who makes things happen on the football field and brings excitement and must be accounted for by defensive coordinators no matter where he is on the field.
I agree that Vick brought excitement to the field and was capable of making things happen with his FEET, but there is NO CHANCE he'll play quarterback for the Seattle Seahawks. This isn't the strong-armed, athletic prospect coming out of Virginia Tech; Michael Vick is serving a federal prison sentence, and hasn't played NFL football since 2006.
A lot of people are assuming that Vick to Seattle makes sense because Jim Mora Jr. coached Vick in Atlanta. This couldn't be further from the truth. Regardless of former relationships, the man who makes personnel decisions, Tim Ruskell, puts a premium on character and team cohesiveness. There is NO WAY he brings in the circus that would be Michael Vick.
It is well documented that Jim Mora Jr. "loves" Michael Vick. A quote from Jim Mora in 2006: "I love the guy. He's a great player and I think he's a better person. I don't care what anybody says about Mike. If I was starting a franchise and I could pick one guy all-time, I would pick Mike Vick."
How did that all-time pick work out for you, Jim?
Of course Jim Mora Jr. was going to say that to the media – his father referred to Michael Vick as a "coach killer" just beforehand. Jim Mora Jr. is a self-proclaimed player's coach, and he wasn't going to throw the face of the Falcons franchise under the bus.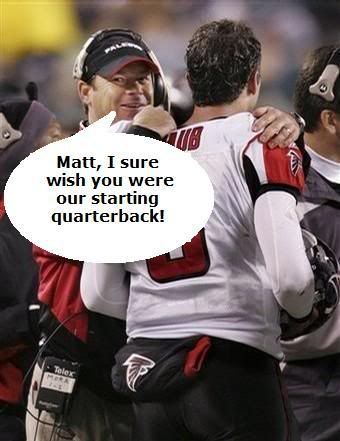 Mora wasn't going to say something like, "Mike Vick is an amazing athlete, but I sure wish we had a REAL quarterback who could execute this damned west coast offense." Does anyone remember how BAD Vick was at throwing a pass? He never threw for 3,000 yards in a season, and never came close to completing 60 percent of his passes. Those are not numbers you'd expect, or WANT to see from a quarterback in the west coast offense.
And don't forget that we have Matt Hasselbeck. I really don't understand why Seahawks fans are so quick to dump this guy – he is our go-to-guy and is the best option we have. Yeah, he is getting old, but if he can stay healthy, there is no good reason to run him out of town. Let's all calm down and start thinking about grooming a replacement, and remember that last year was an injury-challenged aberration.
So to sum things up, Michael Vick is not the answer. He isn't even a possibility. There is no way in hell that he ends up in Seattle, so please: ignore any rumors you hear.
Tags: Atlanta Falcons Coach Killer Jim Mora Matt Hasselbeck Michael Vick Next Season Seattle Seattle Seahawks Thomas Dimitroff Tim Ruskell West Coast Offense