What a great Monday in Seattle yesterday. The temperature lingered around seventy degrees, the sun was out without a cloud in the sky, and it was opening day in baseball. To improve the situation, the Mariners defeated the Twins and Ken Griffey Jr. hit his eighth opening day homerun. My only complaint was that the game was played in Minnesota as opposed to here at Safeco.
Yet, with spring finally making an appearance in the Pacific Northwest, I'm already desperate for precipitation and a drop in temperature. Yeah, you heard right. Baseball is fine; I'll watch the Mariners on television and attend a couple of games every season. However, in my opinion, football is king. Although the weather is appealing and Seattle sports have fared well so far in 2009 (and God knows we deserve it after the disaster that was 2008), I can't wait for fall and football to start again.
There is no better time of the year than fall and the months leading up to it. Football training camps, fantasy football drafts, college football speculation, and … well, the NFL preseason (I suppose). All of which culminates to, of course, the regular season – an unparalleled time of year where weekends are always desired and Monday nights are enjoyable. However, for now I'll deal with the Seahawks voluntary spring minicamps and spring practices at the University of Washington with the Huskies.
Don't get me wrong – nothing is better than watching Ken Griffey Jr. show off the best swing in baseball and knock one out of the park, but my eyes are on the upcoming minicamps for the Seahawks. Which brings me to my initial motive for this post: Matt Hasselbeck will participate in today's voluntary camp, his first time practicing with the team since early December. Last season, Hasselbeck admitted that attempting to play after missing five games with a bulging disk in his back was probably a mistake, and "was quite possibly more painful than the extensive nerve damage" in his back that kept him out.
Hasselbeck makes this pre-draft minicamp quite significant; the Seahawks' hopes for any sort of turnaround from last year's 4-12 record likely hinges on Hasselbeck's ability to stay healthy. Although Hasselbeck has been participating in offseason workouts, it will be interesting to see how he performs through this camp. Initial impressions of his recovery have been positive, and Hasselbeck believes he will not need to be limited through the offseason. How he fares through pre-draft practices, however, may impact a few decisions later this month, when the Seahawks may decide to pull the trigger on Matt's heir apparent.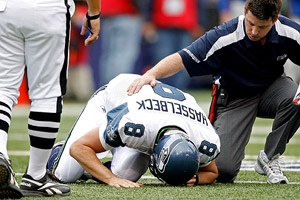 It was difficult to watch Hasselbeck struggle through seven starts last season, cringing with pain after every hit and making very uncharacteristic throws. But even after posting a 57.8 quarterback rating while dealing with his back injury, Hasselbeck is our guy. He is the quarterback of the Seattle Seahawks, and I still believe he is a worthy quarterback capable of making a deep run in the playoffs with the right amount of talent around him.
Regardless of my optimistic opinions of Hasselbeck, he will turn 34 later this year, and isn't going to get any younger. He is very capable, but it may be time to take a look at another quarterback in the upcoming draft. It doesn't necessarily have to be a first round guy – like a Stafford or Sanchez – but instead someone who can come in for a few years at the right price and develop under Matt's tutelage. It may be a good draft to make that move, as long as it isn't another David Greene.
We'll have to wait and see what happens in practices this week.
Tags: 2009 NFL Draft Back Injury David Greene Ken Griffey Jr. Mark Sanchez Matt Hasselbeck Matt Stafford Minicamp Seattle Seattle Mariners Seattle Seahawks University Of Washington