Deon Butler, Wide Receiver
Penn State University
Third round, 91st overall pick
The second day of the draft opened with the third round, and there was no way it could've been as eventful for Seattle as the first day had been. Or at least that is what I thought. Under the assumption that Seattle wasn't going to be on the clock until later in the fourth round, I never expected what Tim Ruskell and company had up their collective sleeve.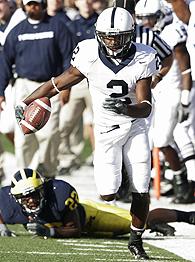 After a quick run on wide receivers halfway through the round, the Seahawks acted quickly, trading their fourth- and fifth-round selections in 2009, plus a third-round pick in 2010 to move up and draft wide receiver Deon Butler.
Butler is a 5'8" wide receiver who possesses great speed (4.38 40-yard dash) and should be able to immediately contribute on special teams. Converted to receiver from defensive back early on at Penn State, Butler understands opposing defenses and projects as a capable slot receiver in the NFL.
Although Deon Butler lacks prototypical size, he enters the league as a four-year college starter and Penn State's all-time leading receiver. He broke several records owned by a former Nittany Lion receiver who we're all pretty familiar with in the Pacific Northwest: Bobby Engram.
Butler may not see the field much as an offensive receiver next season, but will be given the opportunity to contribute on special teams. According to head coach Jim Mora, Butler will open camps as the team's punt returner. If he can quickly adjust to the professional level, his speed, vision, and initial quickness should make him a decent threat in the open field.
I'm excited for Butler's future in Seattle; he fits the mold of a very good slot receiver, and could become a big-play threat for the Seahawks. I'm not sure we should expect anything from him immediately, but he could develop nicely in a couple of years.
And it sounds like he is already impressing individuals within the organization. From Mike Sando's NFC West blog:
According to Hasselbeck, Butler also held up well when offensive coordinator Greg Knapp called on the rookie repeatedly during meetings. Also according to Hasselbeck, former Seahawks teammate Bobby Engram and Engram's wife put in a good word for Butler. Engram and Butler both played at Penn State, although years apart.
Mike Teel, Quarterback
Rutgers University
Sixth round, 178th overall pick
It was a long wait between Seattle's selection of Deon Butler and their next choice, which wasn't until the sixth round. Most Seahawks fans, however, were already satisfied, having drafted the best player available in Aaron Curry, obtaining a 2010 first-round pick from Denver, and solidifying the offense with Unger and Butler. The Seahawks had covered most of their needs, but they had yet to add depth to one particular position: quarterback.
Prior to the draft, scouts and analysts were stirring over Seattle's sudden "interest" in quarterback Mark Sanchez. Matt Hasselbeck is coming off an injury-decimated campaign, and at 33 years of age, youth isn't exactly on his side. It wasn't likely that Seattle would find their next franchise quarterback in this draft, but speculation was high. Hasselbeck is still the guy, but several fans were convinced the Seahawks would at least spend one of their draft picks on a quarterback.
In the sixth round Seattle drafted Mike Teel, the first quarterback drafted by Tim Ruskell since David Greene in 2005. Teel brings depth (third string) to the quarterback position, and will be given an opportunity to prove himself to the organization and develop into an NFL player. Since the Seahawks waited until the sixth round to select a quarterback, it is obvious that Matt Hasselbeck is still the guy, and they're comfortable that he'll be able to return from injuries suffered last season.
It isn't likely that Teel will become the next steal of the draft (although there is a coincidental rhyme there), but he could develop into a decent backup quarterback in the NFL. With a little experience at the next level, maybe he'll become a legitimate play caller for the Seahawks in the future.
At Rutgers last season, after a disappointing 1-5 record to open the season, Teel rallied his team to six straight wins to close out the season. His demonstrated leadership and determination obviously impressed Seattle's front office.
The Seahawks also believe Teel has the tools to be successful with Seattle. According to offensive coordinator Greg Knapp, "He really showed a lot of similar fundamentals to what we like in our offense."
At 6'3", 225 pounds, Teel definitely looks like a good prospect at the quarterback position. His work ethic and other qualities may push him to success in the NFL, but only time will tell.
Courtney Greene, Safety
Rutgers University
Seventh round, 245th overall pick
Courtney Greene, another player from Rutgers, was selected by Seattle using one of their compensatory picks in the seventh round of the draft. A physical safety, Greene fills another need the Seahawks had entering draft day: youth and depth at the safety position.
Had Greene declared early for the NFL Draft after a successful junior campaign, it is possible that he would've been a day one selection. He has good size and is a big hitter, but he was the victim of too many big plays his senior year. Greene's stock likely fell as his speed and coverage skills were exposed by opposing offenses.
Still, he offers Seattle great value in the seventh round, and at the very least should be a standout on special teams. With good coaching, there is a chance he may develop into a future starter, but I'm not sold just yet. His value in the last round, however, was just too good to pass up.
Expect to see Greene engage in heavy competition with the other safeties on the roster this summer. He'll have a chance to make the team, but he is going to have to prove his worth on special teams. We'll likely see some big hits and physical play from him during the preseason, so he'll be a fun player for fans to watch.
Tags: 2009 NFL Draft 2010 NFL Draft Aaron Curry Bobby Engram Courtney Greene Day Two Deon Butler Greg Knapp Mark Sanchez Matt Hasselbeck Max Unger Mike Sando Mike Teel NFC West NFL Penn State Preseason Quarterback Rutgers Safety Seattle Seahawks Seventh Round Sixth Round Slot Receiver Third Round Tim Ruskell Wide Receiver