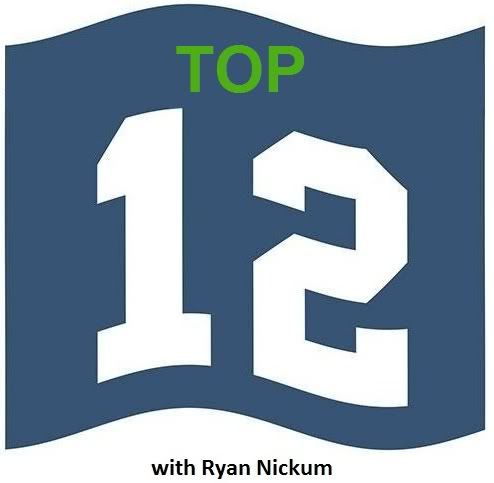 12. When you have Jesus (Charlie Whitehurst) on your side anything is possible. Those footprints you see in the turf beside Justin Forsett's? Those are Charlie's footprints. And when you only see one set, that's because Charlie is carrying him. You didn't think the Seahawks were paying him millions just to hold a clipboard, did you?
11. The 49ers are game planning for Troy Polumbus, not Tyler Polumbus.
10. You know Matt Hasselbeck always puts up big numbers when he benches himself on his fantasy football team.
9. Unlike 49ers fans, the 12th man won't be distracted by an exceptional wine harvest in Napa Valley. While 49ers fans taste the latest chardonays, Seahawks fans will be making things miserable for San Francisco's new offensive line. Rookie false starts make up for an unimposing defense.
8. Taylor Mays is going to be amped up to play against the college coach who didn't draft him. Unfortunately, one of the side effects of being amped is explosive brain farts. He's big, fast and strong, but they don't make Beano for brain farts. The referees will have their flags poised and ready. He's going to give up big plays, commit penalties, and leave the John Schneider looking pretty smart. This would make a great time for Golden Tate to step up.
7. Nobody in this league drops a pass with the frequency of Ted Ginn Jr. And nobody runs a bobbled pass back for a touchdown like Earl Thomas. That's at least six points right there.
6. This year's Sea Gals are looking very good and the 49ers are a team of wandering eyes. The Sea Gals have received special training from a sexy squad of CIA agents in the classefied art of disabling the male brain through the slightest of jiggling and high kicking.
5. Lofa Tatupu's torn pectoral muscle is healed, and Vernon Davis' incredible pectoral muscles are actually breast implants. Good luck getting off the line VD.
4. Brian Westbrook was a great player, but with all the head injuries he's sustained, he may end up being the first player in a long time to run the wrong way and end up in the opponents endzone.
3. Vernon Davis has already gotten into it with Michael Crabtree for holding himself out of preseason games and being a diva. A few things go wrong in the first quarter (like the 12th man chanting DIVA everytime he gets thrown to) and don't be surprised if Crabtree has a meltdown, and a huge slap fight breaks out.
2. People think this is the year Alex Smith puts it together. Not going to happen. When a team has already been given Joe Montana and Steve Young, it's just not going happen a third time, no matter how early you're drafted.
1. John Schneider still has a few roster moves to make before kickoff…
Ryan Nickum is a contributor to 12th Man Rising. He also publishes the blogs http://thisdayinbaldhistory.com, http://douchepon.com and http://hawkstrap.blogspot.com
Tags: 12th Man Alex Smith Brian Westbrook Charlie Whitehurst John Schneider Lofa Tatupu Matt Hasselbeck Michael Crabtree Pete Carroll Qwest Field San Francisco 49ers Sea Gals Seattle Seahawks Taylor Mays Ted Ginn Jr. Top 12 Tyler Polumbus Vernon Davis