Detailing Michael Bennett's future presidential campaign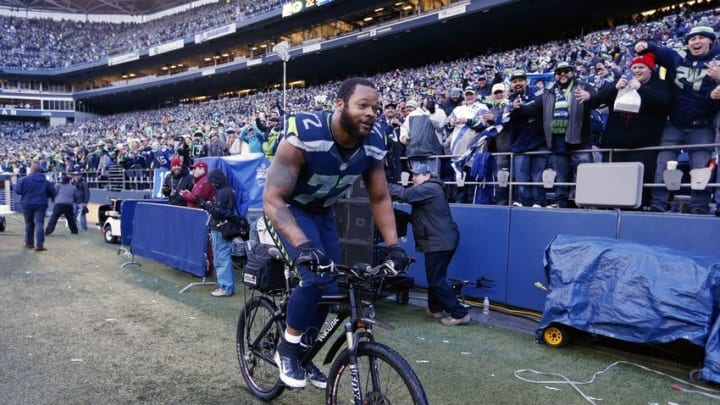 January 18, 2015; Seattle, WA, USA; Seattle Seahawks defensive end Michael Bennett (72) rides a bicycle following the 28-22 victory against the Green Bay Packers in the NFC Championship game at CenturyLink Field. Mandatory Credit: Joe Nicholson-USA TODAY Sports /
Does Black Santa have your future vote?
Kanye West is not the only celebrity to declare his plans to run for President in 2020. The Seahawks' Michael Bennett has also thrown his name into the hat.
Now that we know of Bennett's dream to be President #45, let's work out some of the details for #72's campaign.
Vice President
Dec 20, 2015; Seattle, WA, USA; Seattle Seahawks defensive end Michael Bennett (72) runs on to the field wearing a Star Wars Darth Vader mask during pre game introductions against the Cleveland Browns at CenturyLink Field. Mandatory Credit: Joe Nicholson-USA TODAY Sports /
Any eligible member of the Seahawks defensive line- Bennett once said that they're so close they share socks. If a man shares his socks with you…
Pete Carroll- Coach Carroll would add a certain element of life and exuberance to an already fun campaign.
His beard- It seems there aren't many things in this world that Bennett loves more than his beard. From what he's given us, Bennett seems like he'd give his beard a nomination before any actual person.
Not on the list: Roger Goodell, Tom Brady, Sam Bradford, almost every other quarterback in the NFL.
Bennett is not unfamiliar with the White House, having already taken a trip there after the Seahawks' 43-8 Super Bowl win three years ago. He talked about his experience in the quote below:
""I was really trying to get the taxes lower, but that didn't work. It was neat to meet Obama too. I didn't get to teach him the sack dance, but he did want to play me in basketball.""
Bennett has already tried to lower taxes. What a guy. Maybe Obama can give Bennett a word of advice for when he takes office in a little over four years.
Campaign slogans
Make the NFL Great Again
Pay Quarterbacks Less Money
Sam Bradford is Overrated
"I like Moses' beard, and I like bread. I like America."
The Richest Homeless Presidential Candidate
Damn, Your President Looks Good
While the Seattle and former Texas A&M lineman has shown that he's among the best defensive players in the NFL, we'd have to see how major of a player he'd be in politics. The White House Correspondents Dinner, an event that Russell Wilson is familiar with, would surely be must-see TV with Bennett's knack for jokes and ability to shine in the spotlight.
Qualifications
Super Bowl Champion
Borrowed a police bicycle for a victory lap after winning an NFC Championship game
Impersonated Russell Wilson to reserve a table at a fully booked restaurant
Owner of the NFL's best sack dance
The 'Michael Phelps' of eating chicken, has 8 chicken eating medals.
Whether or not Bennett was serious about running for president (we seriously can not tell with him), he gave us yet another memorable quote on top of many. Bennett's quotability rivals his play on the football field, which really says something. Here's to another fun-filled season in Seattle with Michael Bennett.