Seahawks: predicting the first 15 cuts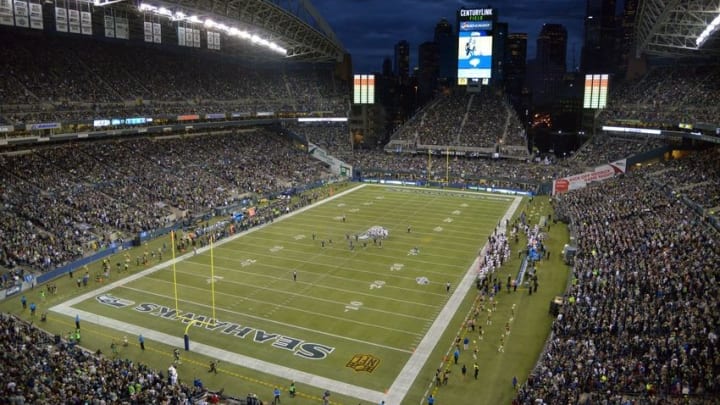 Sep 3, 2015; Seattle, WA, USA; General view of the CenturyLink Field and the downtown Seattle skyline during the NFL game between the Oakland Raiders and the Seattle Seahawks. Mandatory Credit: Kirby Lee-USA TODAY Sports /
The Seattle Seahawks must cut their roster from 90 down to 75 after Thursday's game. Predicting who ends up on the chopping block is never easy.
After tomorrow night's preseason game against Dallas, the Seattle Seahawks will begin trimming their roster from 90 down to 75. The deadline to do so isn't until Tuesday afternoon, but the coaches will begin informing players as early as Friday morning.
Predicting these cuts can be downright impossible. There is much more that does into deciding who gets let go than just being one of the bottom 15 guys on the roster.
So before we begin looking at the roster, lets examine some of the factors that play into deciding the 15 guys who are let go.
Veterans: Veteran players who aren't going to make the team tend to get cut in this first round of cuts. A good example of this was Lemuel Jean-Pierre a year ago.
These vets are often better than the UDFAs that survive until the final cut. This is considered a professional courtesy to give them extra time to catch on with another team.
Cap and trade effects: There are players who fit the above requirement but won't be on the chopping block yet because the team will look to trade them before cutting them. Christine Michael last season would seem to be an example of this.
,Fourth preseason game: Most of the starters won't play in the 4th preseason game. Those that do will likely only be in there for a series. Combine that with the fact there will be 15 fewer guys on the roster, and you have a recipe to overwork certain backups.
Jake Heaps is a good example of how this will effect the cuts this year. He isn't going to make the roster this year. Everyone knows that; even he knows it. Wilson won't be playing, and the Seahawks won't want to leave Boykin in there for the entire game, so Heaps gets to keep his job for another week.
Injuries: Rawls and Procise are still not at full strength, neither will be counted on to play significant snaps in the fourth preseason game. That will lead to an extra RB sticking around that might have otherwise been cut.
Injured rookies, especially UDFAs, could be sent packing here as well. The idea here is that they'll pass through waivers and then land on IR. That'll allow them to redshirt all year and still be with the team for training camp next year.
One last disclaimer: I'm generally terrible predicting this round of cuts. If you disagree with my assessment here, that isn't necessarily a bad thing. I typically get only about 9-10 of the 15 correct, as I did last year.
So lets do this. Here's my guess as to the 15 guys who won't be on the roster by next week:
LB Quayshawn Nealy
LB Pete Robertson
LB/FB Kyle Coleman
DT/FB Tani Tupou
DE Taylor Harris
CB Deandre Elliot
RB/WR/DB George Farmer
SS Keenan Lambert
WR DeShon Foxx
WR E.Z. Nwachukwu
WR Montario Hunter
TE Joe Sommers
C Will Pericak
G Jahri Evans
T George Fant
The big name on here is Jahri Evans. The Seahawks brought him in hoping he'd give them some veteran stability on the offensive line, but it hasn't worked out. Evans showed he couldn't play on the left side, and backups on this roster need to be able to play multiple positions.
I don't feel good about George Fant being on this list. He's got tremendous potential, but he's also got a very long way to go. I expect the team to try and stash him on the practice squad this season.
Coleman and Tupou both landed on this list because the Seahawks recently signed Will Tukuafu. He's going to end up as the fullback on the final roster, so the other FB options became easy cuts.
Next: Film room: Seattle's short yardagefailures
I don't feel good about any of these choices. This might end up my worst prediction accuracy in years.