The best Seahawk of all time to add to the 2017 team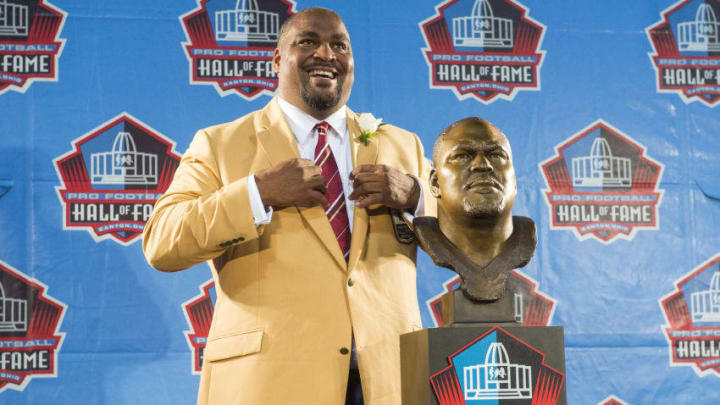 CANTON, OH - AUGUST 2: Former Seattle Seahawks tackle Walter Jones with his bust during the NFL Class of 2014 Pro Football Hall of Fame Enshrinement Ceremony at Fawcett Stadium on August 2, 2014 in Canton, Ohio. (Photo by Jason Miller/Getty Images) /
The Seahawks are granted a wish. They can replace one current player with any past Seahawk great. So who gets the contract?
There are two equally important sides to this hypothetical situation of bringing back an all-time great Seahawk. Hypothetical, unless Paul Allen dumps a few billion into a wayback machine. Maybe Elon Musk would be interested. For now, we'll assume it's hypothetical.
First we need to evaluate the talent of the former player. Obvious, sure. You aren't going to go to all this trouble to get a guy who only made the practice squad. So we're looking exclusively at the best Seahawk ever at his respective position.
Second is how well that player meets the needs of the 2017 squad. I think it's safe to say we don't need to replace Russell Wilson. I'm not knocking Dave Krieg, Matt Hasselback, Jim Zorn… Okay, I'll knock Dan McGwire, but that's it. No quarterbacks need apply. We'll balance talent with need. Just like the Seahawks actually do. And most NFL teams not based in Cleveland.
SEATTLE, WA – JANUARY 18: Seattle Seahawks Steve Largent speaks on stage after the Seahawks defeated the Green Bay Packers in the 2015 NFC Championship game at CenturyLink Field on January 18, 2015 in Seattle, Washington. (Photo by Ronald Martinez/Getty Images) /
More from 12th Man Rising
The Seahawks wide receiver candidates are a one man show
One case where the talent pool isn't that deep is wide receiver. When Steve Largent is your all-time best at the position and you just need one player, you're doing just fine. With Joey Galloway and Brian Blades as your next two choices (in whichever order you like), it's a good thing you don't need depth. Blades and Galloway were really good, no doubt. The thing is, Largent had 1,000 more yards receiving and 30 more touchdowns then that duo combined. Largent is the obvious pick if we need a wideout.
Do we need a wide receiver? Doug Baldwin is already sixth among Seahawks receivers, and will likely pass Blades for second place if he stays healthy. Angry Doug is set, but after that… Listen, I love Tyler Lockett and Paul Richardson. But we're talking about Steve Largent in his prime, with Wilson throwing to him. Largent is a very strong candidate out of the gate.
Could we need a defensive back?
Well, DeShawn Shead is injured, and there's a lot of talk about whether Jeremy Lane can hold off the challenge of Shaquill Griffin. If the starting gig is up for grabs, yes, we could use a defensive back.
First, let's clear this up. As great as Kenny Easley was, we have a pretty decent strong safety in Kam Chancellor. Yes, Easley had almost as many  interceptions (32) as Chancellor and Earl Thomas combined (35). There's more to safety play than picks, of course. Even if you choose Kenny over Kam, why would you when you have a need at cornerback? It's all about need, my friend.
At cornerback, we have two candidates, as I see it. First up, Marcus Trufant, who had 21 interceptions and 646 tackles in his ten year career, all with the Seahawks. Trufant was named to the 2007 Pro Bowl, and is on virtually every list you an find of the team's best corners ever.
Dave Brown had 62 interceptions in his career, 50 of those for the Seahawks. Brown was a first-round pick of the Pittsburgh Steelers in 1975. Obviously the Steelers were loaded with talent in the 70's, and didn't protect Brown in the expansion draft. This exceptional background piece on Brown from seahawks.com lists Brown with 684 tackles as a Seahawk. As that's the official team site, I'd say that's a trusted source. That would put him 38 ahead of Trufant. Factor in those extra 29 picks as a Seahawk, and Brown gets the nod from me.