Gameday grades: Week 13 Seahawks versus Eagles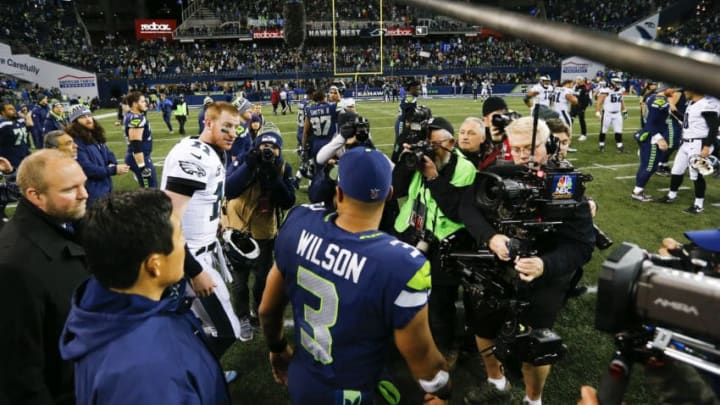 SEATTLE, WA - DECEMBER 03: Quarterback Carson Wentz (Photo by Jonathan Ferrey/Getty Images) /
The Seahawks played what was probably their best game of the season on Sunday night. The Philadelphia Eagles came to Seattle with the league's best record and a ton of confidence. By the end of the night, the Seahawks looked more like the team to beat in the NFC, though their record may not necessarily reflect it. The 24-10 win was both convincing and encouraging. It could be the beginning of an epic late season run, or a fool's gold high water mark as we saw in Foxborough last season.
Either way, it was an impressive win in which the Seahawks played Pete Carroll's patented December football.
Let's see how impressive this win was according to the week thirteen grade book.
Offensive Line: (B)
As a whole I thought the offensive line held up pretty well against a strong Philadelphia defense. There seemed to be some holes here and there in the run game and Russell Wilson was given just enough time to get the ball out of his hand in the passing game.
It appears as if the offensive line is at least trending in the right direction as the regular season winds down. They have their blemishes, but they are at least serviceable at this point.
Quarterback: (A)
This grade doesn't come as much of a surprise. Russell Wilson was absolutely magnificent against the Eagles. The MVP candidate threw for 227 yards and three touchdowns, but that was far from the entire story. Wilson made countless clutch plays with his arm and his legs, and several times he used both.
It's obvious that if the Seahawks are going to make a December run while facing a daunting four game schedule, Wilson would have to continue playing at an MVP type level. So far, so good.
Running Backs: (B-)
It was fun having Mike Davis back in the mix after sitting out last week. The former practice squad back once again showed some burst unlike anything we've seen at the position this year. Sure, 64 yards rushing doesn't exactly jump off the page, but there was a lot to like about Davis' performance. His 22 yard run was especially eye popping as he danced through several tackles, seemingly without breaking stride. The combo of Davis and McKissic in the backfield works just fine for me.
If Chris Carson can return in the next few weeks, this backfield might just turn into something intriguing.
Receivers/Tight Ends: (A)
You can't ask for much more from this group. The receivers are absolutely in sync with Russell and I'm looking forward to how they finish down the stretch. Doug Baldwin, Tyler Lockett, and Paul Richardson are all playing at high level. You like your chances lining up with those guys
And how about that tight end group?
Jimmy Graham in the red zone is just plain old fun. He looks could end up flirting with fifteen touchdowns if he continues at this rate. Nick Vannett is really coming on, which is great to see. And we can't forget about Luke Willson and all that he does to help this team. Look for all three of these guys to be a factor down the stretch.