Richard Sherman says he will be ready by training camp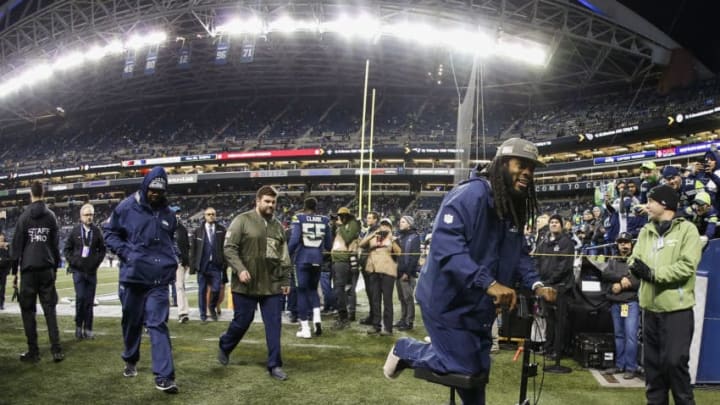 SEATTLE, WA - NOVEMBER 20: Cornerback Richard Sherman (Photo by Otto Greule Jr/Getty Images) /
Richard Sherman was one of the presenters at the MTR Western Sports Star of the Year Awards in Seattle on Thursday. But what he spoke about after the show says a lot about the state of the Seahawks.
Sherman should be back by training camp
Richard Sherman tore his Achilles in week ten on 2017. His loss was felt more than just in coverage schemes. Gone was the opposing quarterbacks fear of throwing to one side of the field. With Sherman not playing, quarterbacks could use the entire field.
Sherman also is excellent against the run, more so than most other cornerbacks. Byron Maxwell was pretty good after being re-signed with pass coverage; There is no replacing Sherman in stopping the run.
Sherman, though, says he will be back and ready by training camp. And that he plans on coming back as a member of the Seahawks. Sherman said he could play by mini-camp in June but that he expects Seattle to hold him out until July.
Sherman's surgery was performed by Dr. Robert Anderson. The procedure was more aggressive than others and involved a smaller incision. Sherman said on Thursday, "It feels great, but we'll see how it holds up when I'm running and everything."
Kam Chancellor coming back?
Richard Sherman understands the importance of Chancellor. But he also understands that Seattle is going to look different in 2018. Sherman only said that he has "hope" that Chancellor will play.
After losing Chancellor and Sherman in the same game last year, Seattle went 3-4 the rest of the way.
Earl Thomas should get paid
Sherman said Thomas feels he is the best safety in the NFL. But that he isn't getting paid like he is. In fact, Thomas is getting paid like "he's being paid like the seventh or eighth" best, according to Sherman.
Thomas will make $8.5 million in 2018. Tyrann Mathieu, for instance, will make at least $11 million.
Richard Sherman will miss Kris Richard, but…
Former Seahawks defensive coordinator Richard is now with the Dallas Cowboys. Sherman said Richard moving on was a "surprise" but that Sherman also understands it is part of the business of the NFL to make changes. Sherman said of Richard, "We had a very open dialogue about the offers he was getting. Thank goodness he had a ton of respect around the league and had a number of offers."
Related Story: Seahawks news and notes from Thursday
Sherman has a non-guaranteed base salary of $11 million next season.