Avril says Seahawks doubted Carroll after Super Bowl XLIX interception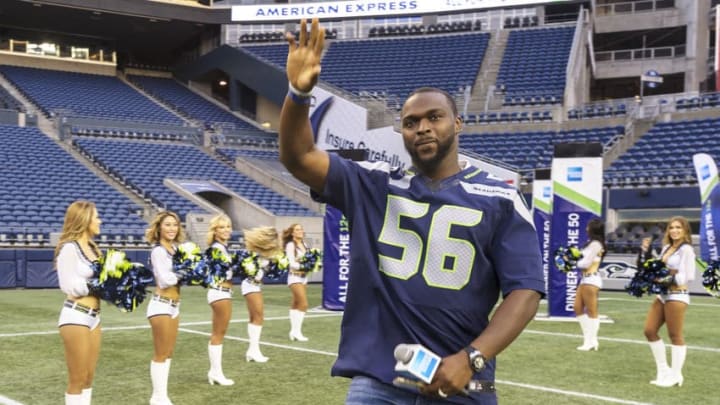 SEATTLE, WA - AUGUST 29: Seattle Seahawks star Cliff Avril waves to the crowd as he enters CenturyLink Field during the American Express "Dinner on the 50"on August 29, 2017 in Seattle, Washington. (Photo by Paul Conrad/Getty Images for American Express) /
Cliff Avril said some Seahawks would have bought in even more to Carroll's philosophy if it hadn't been for that pesky interception.
Seahawks defensive end – make that former defensive end, and I hate writing that – Cliff Avril appeared on The Dave Dameshek Football Program podcast recently. He had a lot to say about a certain play that is seared into the hearts of all 12s, and its aftermath for some Seahawks. Truth be told, Cliff Avril did not refer to the interception as pesky. He did have a lot to say, though.
"I do think the team would have bought in more to what Coach Carroll was saying, instead of, you know, going the opposite way…of, "Hey, this is what we thought the foundation of the team was, and that's not what happened in that particular play." So I think guys started kind of questioning him a little more. More so than actually following his lead, if we would have won that Super Bowl."
You can view the entire segment right here. Please do. I think you'll find Avril's demeanor very revealing. Out of context, you might think he still has a bone to pick with Carroll. In context, it's obvious – at least to me – that Avril is simply describing the situation on the team as he saw it. He isn't necessarily endorsing that view. As he added later in the interview,
"The situation sucked regardless of who took the blame. It's just the fact that we were so close and we weren't able to get it, so I think a lot of guys got turned off by the message… I mean, guys were hot, guys were punching lockers, throwing stuff down, just heated because of the situation."
Some Seahawks didn't like the call. That shouldn't be news to anyone
More from 12th Man Rising
So does this shock anyone? I can't imagine anyone is particularly amazed by this revelation. Let me clarify something, though. I think it's very cool for Avril to come out with this. I don't see it as telling tales out of school. He didn't throw Pete Carroll, Russell Wilson, or anyone under the bus. As he said, the situation sucked regardless.
Did it factor into what became a sticking point, if not a rift, between Richard Sherman and the coaching staff? Well, yeah, but we knew that already. That doesn't mean that Sherman hated Russell Wilson, as he made clear after the rumors of a runaway out-of-control team. The Seahawks 9-7 record last year had a lot more to do with the injuries to the team than its attitude.
One more thing. Dameshek tells Avril at the end of the segment he expects he'll be a massive hit in Seattle. If you missed it somehow, Cliff Avril will join 950 KJR on July 9th as the co-host with Jason Puckett of a mid-day show. I agree with Dameshek. Avril could have really sold this as an explosive story and gone over the top with it. Instead, he just presented the story as he saw it. He was very engaging – no surprise there – and gave his own fascinating perspective on the story. It may not have been surprising, but I really enjoyed hearing it from Avril. I can't wait to hear more from him, whether it's breaking news or not.