Seahawks should trade Rashaad Penny to replace Justin Britt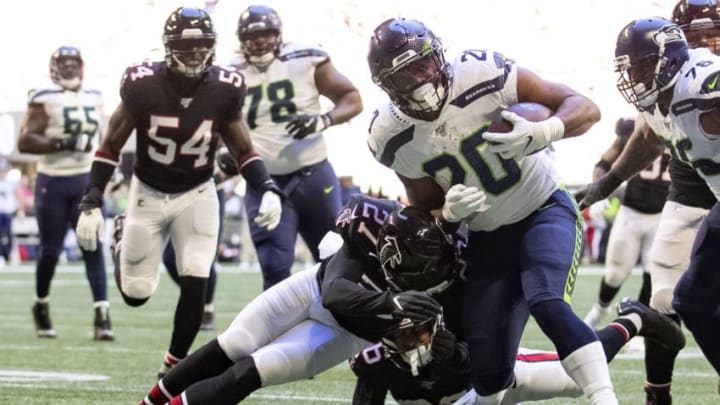 ATLANTA, GA - OCTOBER 27: Rashaad Penny #20 of the Seattle Seahawks runs with the ball under pressure from defender Damontae Kazee #27 of the Atlanta Falcons during the second quarter of a game at Mercedes-Benz Stadium on October 27, 2019 in Atlanta, Georgia. (Photo by Carmen Mandato/Getty Images) /
The Seahawks spent a first-round pick on Rashaad Penny. So far he's been a backup at best. Seattle should turn his potential into a starting center.
The Seahawks have been nothing if not dedicated to re-establishing the run over the past two years. There was no better proof of that than when the Hawks drafted Rashaad Penny in the first round of the 2018 draft.  So far, things haven't panned out for him, despite all his offseason work. There are more than a few rumors he could be on his way out of Seattle before the trade deadline Tuesday. With the latest injury to the Hawks, I believe it's time to move Penny.
Thankfully for Seattle, Penny looked good today versus the Falcons. For the first time this season, Penny actually played exceptionally well. At the half, he had 42 yards on five carries. He finished the game with 55 yards on eight carries for a 6.9-yard average. That's a solid showing, considering that he came into today with just 98 yards in four games.
That's a major plus in favor of keeping Penny on board. It's also a plus for any possible trade partner. Until we got the latest injury news from the Seahawks, I thought it would be a bad decision to move Penny. Unfortunately, it appears Seattle has taken another big hit to their team, as starting center Justin Britt went down with a knee injury. Even worse, early reports indicate that he's torn his ACL and is out for the season.
Now, starting centers aren't exactly easy to come by in the NFL. If the Hawks can somehow find a capable center to trade for Penny, then I'm 100 percent on board. Yeah, I know they're not getting Jason Kelce. But there are definitely centers out there on teams that are going absolutely nowhere this season. Cincinnati, Cleveland, Washington, I'm looking at you.
The 1-7 Skins are going nowhere. They have an excellent back in Adrian Peterson, but he came into the league a year before Steve Largent. At least it seems that way. Penny would be an excellent pickup for them. Unfortunately, it also seems that Washington doesn't want to make any deals at all, because their owner is incredibly stupid.
The Bengals are a more likely partner. Last year's starting center, Billy Price, lost his job due to an injury in camp. He also has that x-factor that Pete Carroll loves, flexibility. Not like in yoga, but positional flexibility. He's logged three starts at guard this season. Obviously, Seattle would play him at center, so that's just a thought for the future. Like Penny, he's a second-year player. In fact, he was taken in the first round as well, six picks before the Hawks made their selection.
Whether it's the Skins, the Bengals, or another team, Penny is a bargaining chip that Seattle can hopefully turn into a solid center. I was all for keeping Penny on board. If the Seahawks can find a trading partner that wants a pick instead of Penny, that's far better, of course. But at the halfway point of the season, a first-round backup is a luxury the Hawks cannot afford.