Seahawks MVP for game nine: the unstoppable Russell Wilson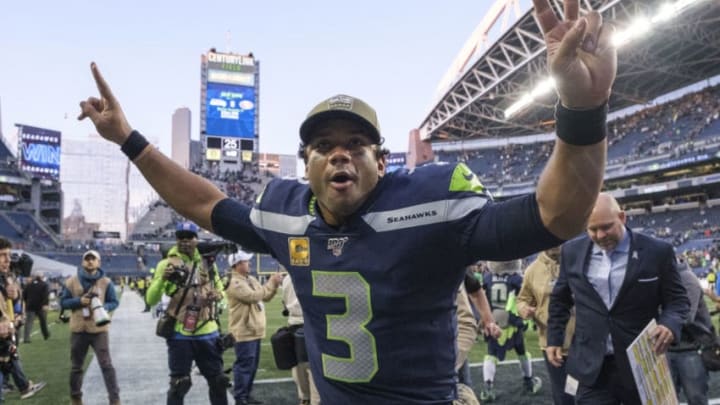 SEATTLE, WA - NOVEMBER 3: Russell Wilson #3 of the Seattle Seahawks celebrates as he leaves the field after a game against the Tampa Bay Buccaneers at CenturyLink Field on November 3, 2019 in Seattle, Washington. The Seahawks won 40-34 in overtime. (Photo by Stephen Brashear/Getty Images) /
The Seahawks played their worst defensive game of the year today. Russell Wilson said, "Defense? I don't need no stinkin' defense." He is the MVP.
If you prefer your games on the wild side, this one was for you. The Seahawks had to come from behind three times in this one and were tied five times. They had to overcome their poorest defensive effort of the season, as they allowed 34 points and missed about 187 tackles. And Russell Wilson saw all this, buckled his chinstrap, and apparently his cap, then went back to work. He was clearly the MVP of this game.
Before we get to his specific heroics, I want to mention a couple of other Hawks that had a huge impact on the overtime win. First up is Tyler Lockett. On almost any other day, Lockett would be my choice for the game MVP. For the third time this season he set a new personal record with 13 catches. At 152 yards, he was just two shy of his yardage record, but he did score twice for the first time this year. Funny how a guy that's just 510″ and weighs a buck 80 can be such a monster.
The other standout today is the guy the Hawks picked up the day after this year's draft for a 2020 seventh-round pick. Jacob Hollister didn't even get off the practice squad until mid-October. I'll take a little credit for writing four months ago that he could have a big impact on Seattle's season. Notice, I said could. I didn't expect he'd have four catches for two touchdowns in a critical Hawks win, one in overtime. This win alone is worth that seventh-round pick.
Ultimately though, there was only one MVP today. Of course, that would be the same guy who should know be the runaway leader for the NFL MVP. Going into today, Russell Wilson was already the favorite of most prognosticators. Pro Football Focus had him rated as the league's best quarterback, and that was after Aaron Rodgers had his phenomenal game last week. Wilson clearly decided to reassert his greatness today.
All he did was connect on 29 of 43 passes for 378 yards. Oh, and he threw for five touchdowns. And wasn't picked off a single time. His run game was weak, as he only took off once. Of course, that one run was a critical 21 yard gain with just 35 seconds left in the game. It isn't Wilson's fault that Jason Myers had his second missed field goal of the game. Even that didn't matter to Wilson.
He simply went back to work in overtime. He threw for 70 yards in the Hawks nine-play, 75-yard drive. Wilson sliced the Tampa Bay defense as he had all day. All day long he connected on back-shoulder throws, crossing patterns, and probably connected a few long-lost families to their pets when the defense was on the field. Wilson was unbelievable, unstoppable, and the game MVP.