Seahawks draft profile: Trevon Diggs could be next great cornerback in Seattle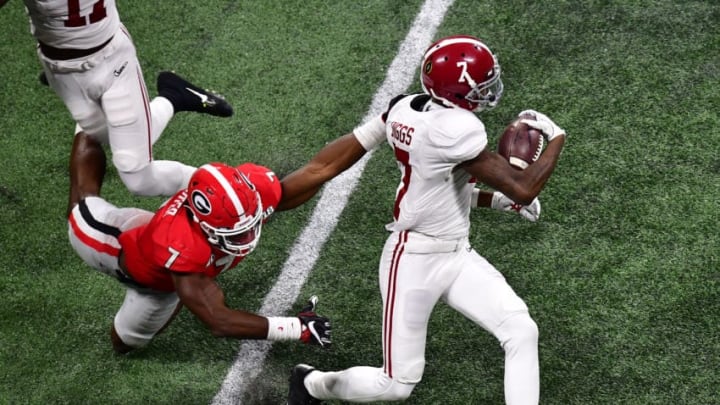 ATLANTA, GA - JANUARY 08: Trevon Diggs #7 of the Alabama Crimson Tide breaks the tackle of Lorenzo Carter #7 of the Georgia Bulldogs in the CFP National Championship presented by AT&T at Mercedes-Benz Stadium on January 8, 2018 in Atlanta, Georgia. (Photo by Scott Cunningham/Getty Images) /
The Seahawks might need to find a cornerback to play at a high level opposite Shaquill Griffin. Could Trevon Diggs be the guy?
Let me start by saying I really hope that Seahawks cornerback Tre Flowers becomes a great player and forms one of the better corner duos in the NFL along with Shaquill Griffin. But my concern is that after a promising rookie season, Flowers appeared to digress in 2019 and especially as the season wore on. Seattle has a window of opportunity to win a championship as long as Russell Wilson is the quarterback, but poor cornerback play could be a reason they get to the Super Bowl.
Enter Alabama's Trevon Diggs. He is possibility the perfect size for a Pete Carroll cornerback. Diggs is six-foot-two-inches and weighs 210 pounds. He was well-coached in college and would be ready to play sooner rather than later in the NFL.
Strengths
Well, clearly Diggs has the size the Seahawks want in a corner. Sure, so does Flowers. But unlike Flowers, Diggs played cornerback in college at a high level so his learning curve is much smaller entering the NFL. Diggs also is really good in press coverage, which, ideally, is what Seattle wants to do. In 2019, the Seahawks played a lot more zone than what they usually do with their scheme and it cost them many times. Diggs would give Seattle a presence on the outside with the ability to jam receivers at the line.
Per Pro Football Focus, in press coverage in 2019, these were Diggs' statistics: 33 targets, 9 catches, 3 interceptions, 7 forced incompletions, 23.0 rating allowed. That is pretty good.
Weaknesses
This is kind of a big one and one that Seattle would need to coach, but Diggs is not a great tackler. In fact, at times he seems to want to run around the opposing runner and pull him down than sticking him in the chest. This is a little odd since Diggs has the size to be a strong tackler. If he comes to Seattle, then Carroll will change the physicality Diggs plays with, especially in the run game.
Overall
Something would have to be done with Tre Flowers for Seattle to choose Trevon Diggs and this is unlikely to happen. But in two years, a duo of Griffin and Diggs would be great and I am not sure the same can be said of the current Griffin and Flowers combination. If the Seahawks want to get to Legion of Boom 2.0, picking Diggs in the 2020 NFL draft would be a step towards that.