Seahawks news: Three truths for your Sunday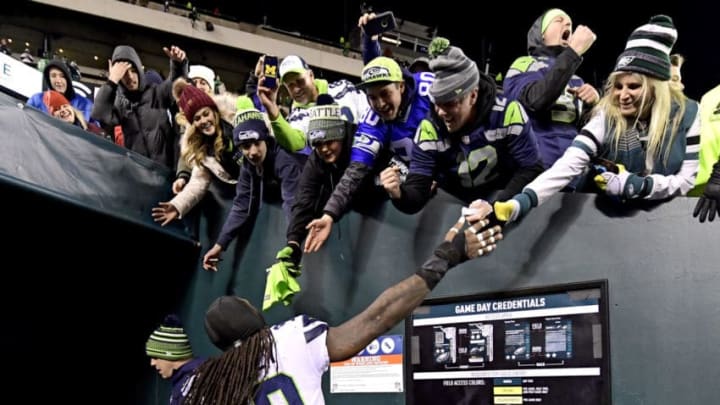 PHILADELPHIA, PENNSYLVANIA - JANUARY 05: Jadeveon Clowney #90 of the Seattle Seahawks celebrates victory with fans after his teams 17-9 win against the Philadelphia Eagles in the NFC Wild Card Playoff game at Lincoln Financial Field on January 05, 2020 in Philadelphia, Pennsylvania. (Photo by Steven Ryan/Getty Images) /
If you want some Seahawks news that is going to change your world, remember it is June. But here are three truths you should know.
We all want some good Seahawks news. 12s want Seattle to re-sign Jadeveon Clowney. And while John Schneider is doing that, might as well go ahead and sign Everson Griffen too. Let's make this 2020 Seahawks team a Super Bowl team because Seattle is this close to being one.
But do you want some Seahawks news that you will read about in the future? Here are three quick notes.
The Seahawks will not be trading for Jamal Adams
This is a wonderful thought but Jamal Adams simply has no leverage to force the Jets to trade him. He will be entering the fourth year of his rookie contract and New York has him for the next two seasons. If Adams were entering the fifth and final year of his rookie deal, maybe.
This isn't to say that the Jets won't trade Adams because there might be some stupid team that immensely overpays in a trade for Adams. But Seahawks general manager Schneider doesn't operate that way so Seattle will not be getting Adams.
The Seahawks will re-sign Jadeveon Clowney in July
Look, I am as mystified as the next person why some team hasn't overpaid for Jadeveon Clowney. He is a very good football player. Seattle needs his services in 2020 but so do some other teams. But the Seahawks will be the team that finally signs Clowney in July.
Clowney has no real reason to sign until July anyway. NFL players get paid during the NFL's fiscal year and that begins in July. Clowney knows he will be playing for somebody next year and is smartly just waiting for as much money as he can get. Seattle will sign Clowney, but it won't be for the money he wants yet it will be more money than a lot of other teams are willing to offer. Clowney will sign for three years at $14 million a season.
The 2020 NFL season will go on but not start until October
Of course, all three of these "truths" are just predictions really and I am just talking out of my mind, but I do think the NFL gets pushed back. The NFL has announced its schedule for 2020, of course, but always left open the fact that week one might not be the same period of time as normal.
With the current spike in COVID-19 cases and the fact that this past week the Texans and Cowboys announced they had players test positive, the NFL should be in no rush to force the start of the season. I think the season kicks off in October with the Super Bowl in late February or early March.