Seahawks news for Saturday: Quinton Dunbar and CenturyLink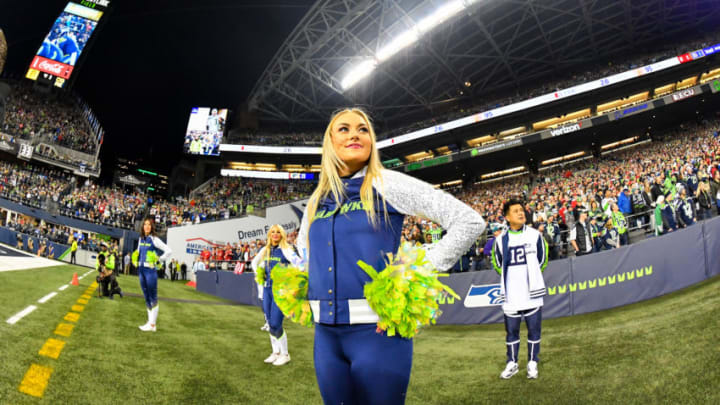 SEATTLE, WASHINGTON - DECEMBER 29: The Seattle Seahawks cheer team look at the scoreboard during the game against the San Francisco 49ers at CenturyLink Field on December 29, 2019 in Seattle, Washington. The San Francisco 49ers top the Seattle Seahawks 26-21. (Photo by Alika Jenner/Getty Images) /
In Saturday's Seahawks news, the never-ending drama of Quinton Dunbar and his alleged robbery takes a new turn. And CenturyLink gets accolades.
Who is ready for some football-related Seahawks news? I am for sure. The offseason is usually filled with either off-the-field issues (obviously) or the draft or free agency, but not actual play. Let's hope COVID-19 goes away sooner than expected and we get to see Seahawks football this fall.
Quinton Dunbar
On Friday, Pat Leonard of the New York Daily News reported that offseason Seahawks acquisition Quinton Dunbar and his friend DeAndre Baker of the New York Giants had paid off witnesses in an alleged robbery on May 13th in Miramar, Florida. Dunbar's attorneys nearly immediately disputed the report. The attorneys cited that they had been saying all along Dunbar and Baker had been exploited and this is why payments were made.
The bottom line for this as far as Seahawks news goes is that no one at this point really knows whether Dunbar is going to play for Seattle or not. He could be a very valuable cornerback and help Seattle get a little closer to a Legion of Boom 2.0. Or he could simply be a player involved in a wasted trade.
CenturyLink voted second best stadium
Writers at The Athletic voted Seahawks home stadium CenturyLink Field as the second best stadium in the NFL. Seattle finished one vote short of a tie-breaker with the alleged best stadium, the Vikings U.S. Bank Stadium.
But 12s all know the truth: Nothing is better than CenturyLink. Seahawks fans make enough noise to affect games and the Seahawks good and the location is awesome. CenturyLink Field. In my opinion, the best football stadium in the United States.
Seahawks offer full refunds for 2020 season for season-tickets holders
Due to COVID-19 and the need for social distancing, most NFL teams will have a lot less capacity in their stadiums this season. The Ravens, for instance, will have less than 14,000 fans at home games in an effort to keep people six feet apart. The Seahawks will likely do the same.
12s who hold season-tickets can apply to get a full refund on their 2020 tickets or apply for a pause on their 2020 tickets and get a credit for 2021, the team announced this week. Seattle has sold out every home game since 2003 but 2020 is a different kind of year for everything.
Let's hope 2021 looks completely different and looks somewhat normal with the Seahawks winning home games in front of the normal 72,000 fans who show up for football games eight times a season.