Bradley McDougald: An appreciation of a former Seahawks team player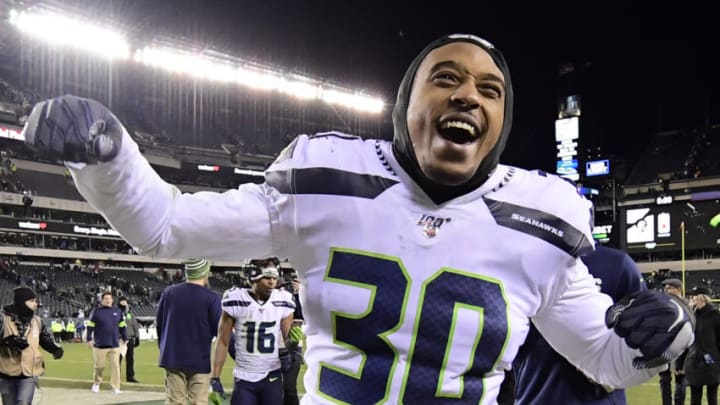 PHILADELPHIA, PENNSYLVANIA - JANUARY 05: Bradley McDougald #30 of the Seattle Seahawks. (Photo by Steven Ryan/Getty Images) /
The Seattle Seahawks pulled off the biggest deal of the offseason, signing Jamal Adams to reforge their defense. I'd rather talk about Bradley McDougald for now.
Listen, there is no doubt about it; the Seahawks deal that brought two-time Pro Bowler Jamal Adams to Seattle is a season-changer, and could well be a cornerstone of change for the franchise for years to come. Whether or not the Hawks gave up too much in the deal is a matter for another discussion. Right now, I just want to appreciate Bradley McDougald.
Before you even say it, yes, I agree, Adams is the better player. That doesn't belittle what McDougald did for the Seahawks. When Seattle signed him before the 2017 season, I wrote that he would have a much bigger impact on the team than most suspected. Now, we all know the Hawks didn't exactly adopt the big nickel package, but McDougald certainly got on the field more than we expected.
In that article, I posited that McDougald would get 600 snaps in his first season with the Seahawks, despite being used primarily as a backup at both safety positions. He wound up with 675 snaps. Unfortunately, the bulk of those came as McDougald started in place of his injured teammates.
Future Hall of Famer Earl Thomas missed games eight and nine, which put our man Bradley on the field for every defensive snap at free safety. Before Thomas got back on the field, Kam Chancellor, the strong safety who should go into the Hall of Fame, was lost for the season. McDougald simply stepped up into the box and played strong safety for the remainder of 2017. Oh, and he didn't miss a single snap, either.
McDougald continued to help anchor a defensive backfield that had lost much of their boom when Chancellor's career ended. The Seahawks 2018 prospects took a gut punch when Thomas went down for good in game four in 2018, Bradley McDougald started all 16 games. When the Legion of Boom lost the last of its original members with the departure of Thomas and Richard Sherman before the 2019 season, McDougald was the steadying influence for young players like Shaquill Griffin and Tre Flowers. He missed just one start, and even managed to get in for 11 plays that day.
No, Bradley McDougald won't be wearing a gold jacket in Canton. To be honest, I expect Jamal Adams to play better than the former Buccaneer. But there's always going to be room in my heart for a player like McDougald, who was always ready to do whatever his team and teammates needed. The Seahawks, and I, will miss him.