Seahawks offensive and defense grades from week five victory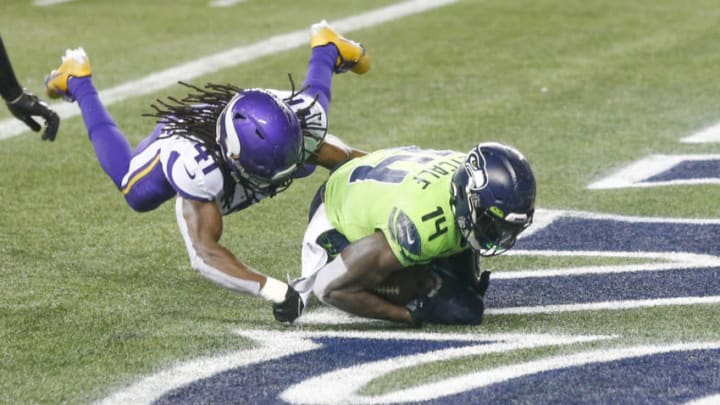 Oct 11, 2020; Seattle, Washington, USA; Seattle Seahawks wide receiver DK Metcalf (14) catches a touchdown pass against Minnesota Vikings free safety Anthony Harris (41) during the fourth quarter at CenturyLink Field. Mandatory Credit: Joe Nicholson-USA TODAY Sports /
Mandatory Credit: Joe Nicholson-USA TODAY Sports /
O-Line
Although the Seahawks found a way to win, I was very disappointed in how the offensive line performed last night. They received a B- simply because they were just good enough to win this game. But, the first half of this game was very reminiscent of the last year Seahawks: 3 and out, 3 and out, 3 and out.
The Seattle Seahawks had 3 first half drives last night. The first one went 8 plays for 38 yards but resulted in a punt due to penalties and poor pass protection.
The second drive was a 5 play drive that had a net gain of 17 yards. Once again, resulted in a punt due to poor pass protection. The third drive and perhaps the worst drive of the game was a 3 play drive that had a net gain of -15 yards. If you guessed another punt, you are correct.
The Seahawks offensive line allowed 4 sacks and 9 quarterback hits. It seemed as though the Seahawks were going to resort to their old way of playing, which is establishing no kind of rhythm and then asking Russ to save us at the end. Although he did save us, the defense created turnovers and the offensive line played way better in the second half.