Russell Wilson to open Why Not You Academy in Fall of 2021, honors father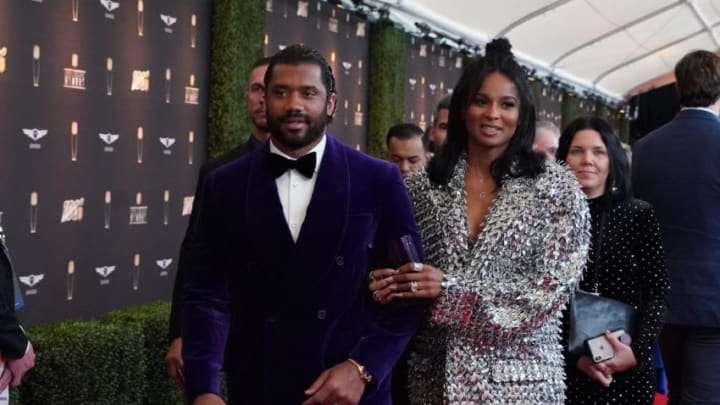 Feb 1, 2020; Miami, Florida, USA; Seattle Seahawks Russell Wilson (left) and Ciara (right) appears on the red carpet prior to the NFL Honors awards presentation at Adrienne Arsht Center. Mandatory Credit: Kirby Lee-USA TODAY Sports /
Russell Wilson announced the opening of the Why Not You Academy will happen in the Fall of 2021.
When Russell Wilson was young, his father asked him many questions about what Wilson could do with his life. The framing of many of the questions surrounded the thought, "Why not you?" Why couldn't young Russell become a Major League Baseball player? Why couldn't Russell Wilson become an NFL quarterback? If he worked hard enough, Wilson could become whatever he wanted to become, implied his father.
Starting in the Fall of 2021, Seahawks quarterback Russell Wilson will turn his personal philosophy of "Why not you?" into helping youth who may have been underserved in their educational development. Wilson and his wife, Ciara, will turn the Cascade Midway Academy, which started as a charter program, into the first Why Not You Academy.
According to Why Not You Foundation's website, the academy will do the following.
"(The academy) offers students a personalized approach to their education needs and is an extension of the Why Not You Foundation's belief that high-quality education should be accessible to all students. The school will continue to inspire tomorrow's leaders to lead with a why not you attitude, and just like all charter public schools in Washington, Why Not You Academy has the flexibility to innovate and tailor learning using a blend of relevant classroom learning with meaningful real-world experiences."
The academy is just another step in Wilson's mission to make sure that everyone has access to quality education. Wilson and Ciara have previously contributed to the Rwanda Girls Initiative, which goes toward science and technology-focused boarding schools for girls in Africa, and to Rainier Scholars, which helps low-income minorities prepare for secondary education.
Harrison Wilson
But make no mistake that many of Wilson's goodwill simply comes from the guidance of Wilson's late father, Harrison. Harrison passed away in 2010 from complications from diabetes. Wilson's father was a success in many ways. He was an attorney who started his own law firm, played two sports in college and with his wife reared three children.
One of those children is, of course, Russell Wilson. And Russell Wilson seems to be a very good person. And is there any better measure of human success than to be a parent to have one's children be good people and help as many people as they are able? In this way, Harrison Wilson is one of the most accomplished people one might have ever known.