Five Seahawks that Seattle must re-sign this offseason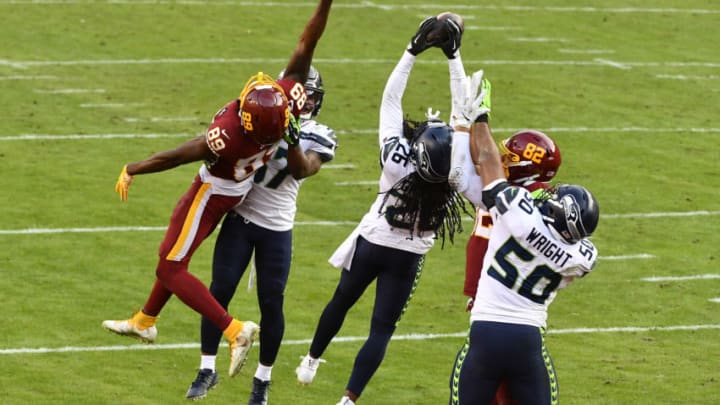 Dec 20, 2020; Landover, Maryland, USA; Seattle Seahawks cornerback Shaquill Griffin (26) breaks up a pass intended for Washington Football Team wide receiver Cam Sims (89) during the second half at FedExField. Mandatory Credit: Brad Mills-USA TODAY Sports /
The Seahawks future success might be based on which free agents the team chooses to re-sign.
Like every team in the NFL, the Seattle Seahawks will undergo roster changes this offseason. Over the years, Seattle general manager John Schneider has clearly proved himself to have a great eye for talent in drafts and free agency. No, he hasn't been perfect as no one is but Schneider's decisions have also helped Seattle make the playoffs in nine of 11 seasons since he became the GM.
Schneider is also an honest negotiator and will not easily give in to what a player wants. Seattle did offer Jadeveon Clowney a contract this past offseason and as much as $15 million reportedly, but Clowney wanted a longer-term contract than Schneider was willing to give so Clowney left (which turned out to be a good thing this year for Seattle as Clowney got hurt).
This offseason, the Seahawks have several of their own free agents they will need to make decisions about and which ones they keep and which ones they don't will have a huge impact on the success of the team over the next few years.
I have two players I want to mention that Seattle should let walk.
K.J. Wright
I hate if Wright weren't a part of the Seahawks because he is still really good and also a good person. But Seattle needs to spend money on younger players and need to make Jordyn Brooks a full-time player. If Wright will re-sign for $7 million or so then Seattle should keep him but anything higher is money that needs to be spent on other players.
David Moore
Moore has shown to be a receiver who can get an important catch (like in week 16 versus the Rams) but he is also very inconsistent and always has been. If no other team wants Moore then great and Seattle should bring him back. If another team wants him for $3 million or so Seattle should say goodbye.