Super Bowl LV: 3 bold predictions for Buccaneers versus Chiefs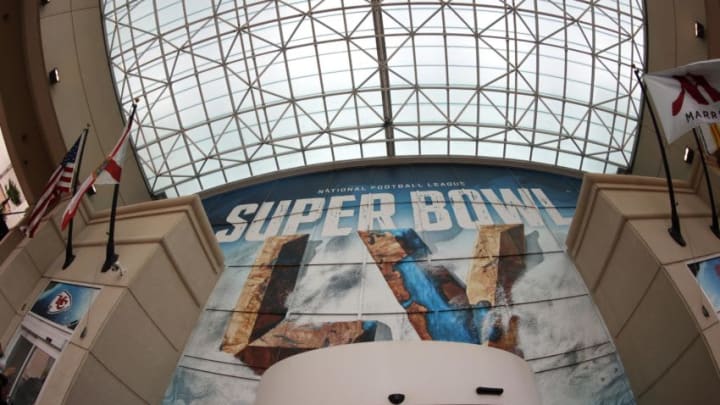 Jan 31, 2021; Tampa, Florida, USA; A general view of signage for Super Bowl LV at downtown Marriott Hotel. Mandatory Credit: Kim Klement-USA TODAY Sports /
The Buccaneers host the Chiefs (seriously, it's true) in Super Bowl LV. This marks the first time in Super Bowl history that a team will play in its home stadium for the big game. But what will happen on Sunday? These three things.
Shaquil Barrett will win MVP with 4 sacks
Tampa Bay will score some points offensively but if you cheated and read below and know that I think they will win this game then you should know that I think the Buccaneers are going to win mainly because of their defense. I think for once the Chiefs offensive speed will be negated by another team's defense enough to allow the other team to win.
Specifically, Shaquil Barrett will create havoc for the Chiefs who will be without left tackle Erc Fisher and backups at many other positions. Barrett will get 4 sacks and 5 quarterback hits on Patrick Mahomes and for this will be named Super Bowl MVP.
Leonard Fournette will run for over 150 yards
Tom Brady will have his moments, and will make a few mistakes, but the Buccaneers will win because of defense and the running game. And Leonard Fournette will have a huge day with over 150 yards rushing on 24 carries. The Chiefs were 19th in the NFL in allowing 4.5 yards a rush so the Buccaneers being able to run won't be surprising.
But Tampa Bay will run a lot to start the game and have greater success at doing so as the game grows. Fournette will break off a few longer runs but mostly get his yards up the middle and will have 2 touchdowns.
The Buccaneers will win Super Bowl LV 38-21 over the Chiefs
I think the Buccaneers just seem fated to win the Super Bowl. It isn't because Tom Brady is the quarterback; Russell Wilson would also lead Tampa Bay to the championship. But the Buccaneers are simply a very well-rounded team with the ability to run and put a lot of pressure on opposing quarterbacks. Their defensive speed is impressive.
The game will be close at halftime with Tampa Bay ahead 17-10 but by late third quarter the Chiefs defense will begin to tire from all the running the Buccaneers are able to do and the Bucs defense will begin getting lots of hits on Patrick Mahomes. Tampa Bay will easily in the end.