How much Seahawks can save by restructuring/extending key players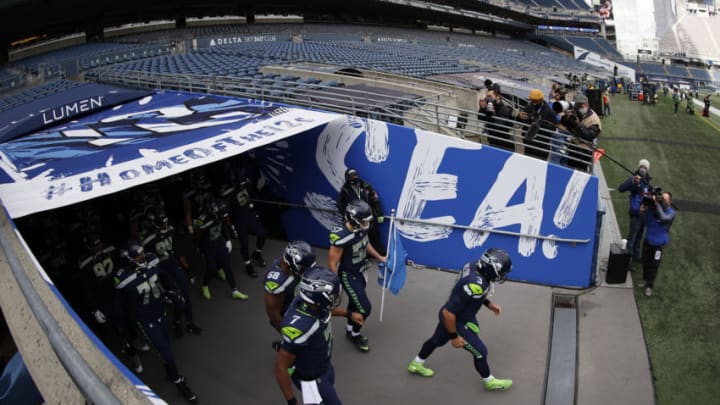 SEATTLE, WASHINGTON - JANUARY 09: Quarterback Russell Wilson #3 of the Seattle Seahawks leads his team onto the field to start the NFC Wild Card Playoff game against the Los Angeles Rams at Lumen Field on January 09, 2021 in Seattle, Washington. (Photo by Steph Chambers/Getty Images) /
SEATTLE, WASHINGTON – JANUARY 09: Russell Wilson #3 of the Seattle Seahawks looks to throw the ball in the first quarter against the Los Angeles Rams during the NFC Wild Card Playoff game at Lumen Field on January 09, 2021 in Seattle, Washington. (Photo by Abbie Parr/Getty Images) /
As the wealthiest man on the team, let's look into how much can be saved this upcoming year with Russell Wilson's contract.
Russell Wilson carries a healthy cap hit of $32 million for the 2021 season. This figure is nearly twice that of the next highest-paid player, Bobby Wagner ($17 million).
I have heard for months fans screaming that Russell Wilson needs to rework his contract to help the team. Let's see what this would look like.
Player: Russell Wilson
Age: 33
Year:    Base salary:    Signing Bonus:      Roster Bonus:    Cap hit:   Dead Money:
2021           $19m                     $13m                     0                    $32m          $58m
2022           $19m                     $13m                    $5m               $37m          $26m
2023           $22m                     $13m                    $5m               $40m          $13m
How much can be saved through 6 different methods of cap savings:
Cut (pre-June 1st):  -$26m
Cut (post-June 1st):    $0
Trade (pre-June 1st):  -$7m
Trade (post-June 1st): $19m
Restructure: $11.95m
Extension: $14.34m
Let me quickly go over this data. Moving on from Wilson before June 1st would net the Seahawks negative cap savings, whether cut or traded. It won't happen. Moving on from Wilson after June 1st would net Seattle $0 if cut and $19 million if traded in cap savings.
Seattle can save up to $11.95 million by restructuring Russell Wilson's contract. Seattle can save up to $14.34 million this season by extending Russell Wilson. Both moves would result in massive savings. However, they also carry a long-term risk.
Honestly, I would avoid doing anything with Wilson's contract with the state Wilson and the Seahawks relationship. If an ugly divorce ended up occurring after this season, an extension or restructure would make it all the more expensive to move on from him.
This is one contract I would try not to touch if I were Seattle. There are plenty of other contracts that can be maneuvered.
Verdict: Don't do anything with this contract.