How much Seahawks can save by restructuring/extending key players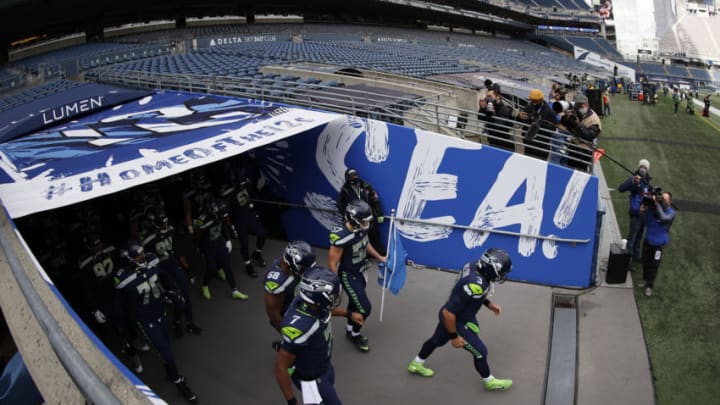 SEATTLE, WASHINGTON - JANUARY 09: Quarterback Russell Wilson #3 of the Seattle Seahawks leads his team onto the field to start the NFC Wild Card Playoff game against the Los Angeles Rams at Lumen Field on January 09, 2021 in Seattle, Washington. (Photo by Steph Chambers/Getty Images) /
SEATTLE, WASHINGTON – JANUARY 09: Carlos Dunlap #43 of the Seattle Seahawks lines up for play in the second quarter against the Los Angeles Rams during the NFC Wild Card Playoff game at Lumen Field on January 09, 2021 in Seattle, Washington. (Photo by Abbie Parr/Getty Images) /
Carlos Dunlap redid his contract last off-season to help Seattle afford the trade. This off-season, his money is coming due.
Dunlap was a great mid-season addition. Seattle traded pennies on the dollar for him and it paid off in a big way. He may have had some inconsistencies. However, when a big play was needed, Dunlap was there. He recorded 4.5 sacks with a pressure rate of just over 10% in 8 games.
The issue lies with the current season cap hit. As it is currently, Dunlap is not affordable. This is the one contract I can guarantee you that will be re-worked in some fashion this off-season. Seattle cannot afford his $14 million hit.
Player: Carlos Dunlap
Age: 32
Year:    Base salary:    Signing Bonus:      Roster Bonus:    Cap hit:   Dead Money:
2021       $10.1m               $0m                             $3.9m         $14m          $0m
How much can be saved through 6 different methods of cap savings:
Cut (pre-June 1st):  $14m
Cut (post-June 1st):    $14m
Trade (pre-June 1st):  $14m
Trade (post-June 1st): $14m
Restructure: $0m
Extension: $10m
Dunlap has zero guarantees in his contract. There is zero dead cap to move on from him whether through cutting or trading. This is the easiest way for Seattle to gain $14 million to spend. However, Dunlap helped the defensive line to turn things around after a disappointing beginning of the season. It is a dangerous gamble to move on from your top defensive lineman.
This is why a short-term extension is worth looking into. The most Seattle can save through an extension would be $10 million in 2021. If Seattle extended him, his cap hit can be as low as $4 million.
Seattle cannot restructure his contract in the classic form, as there is only one year on the deal. They can ask for him to take a pay cut. He may oblige. However, this has a chance it backfires and causes unnecessary drama/tension in the locker room after already playing on a discounted deal.
Verdict: Extend Dunlap.