Three retired Seahawks who should one day be in the Ring of Honor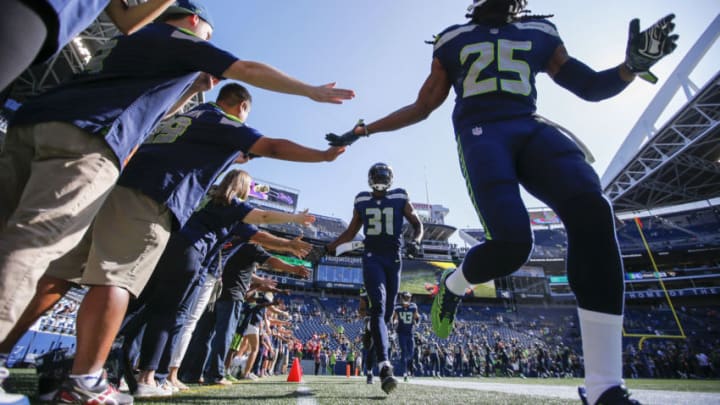 Aug 25, 2017; Seattle, WA, USA; Seattle Seahawks cornerback Richard Sherman (25) and strong safety Kam Chancellor (31) lead the secondary out onto the field for pregame warmups against the Kansas City Chiefs at CenturyLink Field. Mandatory Credit: Joe Nicholson-USA TODAY Sports /
The Seahawks have 12 people in the team's Ring of Honor. Nine are players. But coming up in the next few years Seattle should be adding and updating its group of former players and other important members of the organization. Seattle is slow, maybe rightfully so, to give the Ring of Honor to former personnel, though.
Since 2006, only two people, Paul Allen and Walter Jones, are inductees. Which former players should make the Ring next?
Future Seahawks Ring of Honor should-bes
Kam Chancellor
I wrote recently about how Kam Chancellor needs to be hired as a defensive coach if he is willing to be one. Chancellor was the boom in the Legion of Boom and set tones in games with his physicality. Chancellor wasn't exactly at Kenny Easley's level (Easly is already a member of the Seahawks Ring of Honor) but he was pretty close.
Chancellor played eight seasons in the NFL and made the Pro Bowl four times. During Seattle's Super Bowl run of 2013, Chancellor had 35 tackles in three games and 2 interceptions and intimidated the Broncos as Seattle won its first championship. Chancellor is the epitome of what it is like to be a current Seahawk.
Marshawn Lynch
Unlike Chancellor, Marshawn Lynch did not play his entire career with Seattle. In fact, Lynch played 12 seasons in the NFL and seven of those were with Seattle. But there is no doubt that the most important seasons Lynch played were as a member of the Seahawks. Of his 10,413 career rushing yards, 6,381 yards were with Seattle and 58 of his 85 career touchdowns.
Lynch needs to be a member of the Ring of Honor, though, because as much as the LOB was the soul of the defense, Lynch was the heart of the offense. Russell Wilson was the team's quarterback, sure, but he wasn't the Russ that he is today. Lynch created yards that weren't there and refused to be tackled easily. He helped Seattle become a great franchise in the 2010s.
Steve Raible
While everyone knows Steve Raible as the voice of the Seahawks on radio broadcasts, it is easy to forget that he was once a player for the Seahawks as well. He started his career in 1976 with the franchise began and played through 1981. Raible wasn't a bad player but he wasn't great either.
Still, maybe no one more personifies the Seattle team than does Raible. He has been a member of the organization since the team incepted and should continue to be the play-by-play guy for several more years. He needs to be in the Ring of Honor.