Any trade involving Russell Wilson for Deshaun Watson is good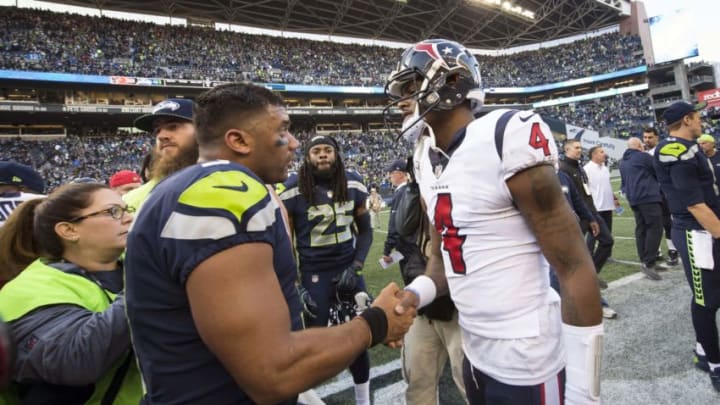 Oct 29, 2017; Seattle, WA, USA; Seattle Seahawks quarterback Russell Wilson (3) embraces Houston Texans quarterback Deshaun Watson (4) after a game at CenturyLink Field. The Seahawks won 41-38. Mandatory Credit: Troy Wayrynen-USA TODAY Sports /
Maybe Russell Wilson wants to be traded. And maybe the Seahawks should somehow get Deshaun Watson back. This would be a good trade for the Seahawks. Maybe I will get some hate-tweets from 12s about this but in five years Watson is going to be better than Wilson and that would make Seattle a better team.
Heck, maybe even in three years. Or two years, Watson will be better than Wilson. And just maybe, Watson is already better than Wilson and Watson has just played on worse teams than Wilson has and some of his raw numbers are not as good. Over the last three years, Wilson has thrown 106 touchdowns and 25 interceptions. Watson has thrown for 85 touchdowns and 28 interceptions.
But Watson has been sacked more than Wilson which means he has had a worse line than even Wilson has. In the past three seasons, Wilson has been sacked 146 times. Far too many. But Watson? 155 times, including 62 in 2018 and yet Watson still made the Pro Bowl.
The fact of the matter is that Deshaun Watson seems to want out of playing with the Texans and Russell Wilson might want out of playing for the Seahawks. Would a 25-year-old Watson be a good replacement for a 32-year-old Wilson? Absolutely and especially long-term.
What a Russell Wilson trade for Deshaun Watson might look like
Russell Wilson isn't going to be traded for Watson directly. Wilson has a no-trade clause and one of the teams he reportedly might be willing to go to is not the Texans. But Wilson might want to go to New York and play for the Jets. New York is a mecca of the entertainment industry and Wilson would be a king for the rest of his life should he lead the Jets to success. Plus, Wilson's wife, Ciara, would help her career by being in New York.
So let's say Wilson accepts a trade to the Jets. New York could then trade its two first-round picks in 2021 and a first-round pick in 2022 to the Seahawks. (Two of these picks were acquired, of course, when Seattle traded to get safety Jamal Adams.) New York would get Wilson and keep one of its first round choices in 2022.
Seattle could then turn one of these first round choices along with receiver Tyler Lockett to the Texans for Deshaun Watson, the Texans first round pick in 2023 and running back Duke Johnson. This trade would get a very good quarterback in return for Wilson but also clear about $23 million in cap space for 2021.
Sure, Watson ends up being more expensive in 2022 than even Wilson but he will also be 26 years-old and his contract relative to other very good quarterbacks will probably seem less expensive by 2023 or 2024 and the salary cap only goes up from there as well.