Russell Wilson will host COVID-19 vaccine special Sunday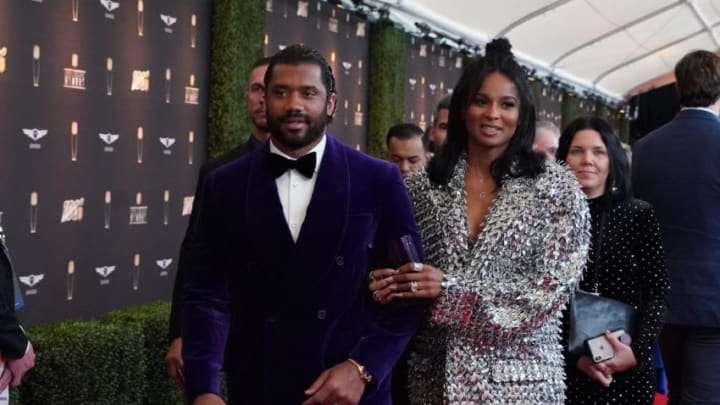 Feb 1, 2020; Miami, Florida, USA; Seattle Seahawks Russell Wilson (left) and Ciara (right) appears on the red carpet prior to the NFL Honors awards presentation at Adrienne Arsht Center. Mandatory Credit: Kirby Lee-USA TODAY Sports /
Russell Wilson and his wife Ciara will host a one-hour special on NBC on Sunday called "Roll Up Your Sleeves." This is just another reason Wilson is awesome. This offseason has been an odd one between the Seahawks and Russell Wilson but at the end of the day, 12s know two things. One is that Russell Wilson is going to be the Seattle quarterback for a long time and the second is that Wilson is simply a good guy.
Wilson and Ciara will host the NBC special, sponsored by Walgreens, that will feature Joe Biden and the Obamas, Michelle and Barack, and many others. This includes doctor Anthony Fauci being interviewed by Matthew McConaughey.
But Wilson's high-profile involvement means not only does one of the four main networks think he is so well-known that he can host a prime-time special but also proves once again that Russell Wilson isn't afraid to simply not talk and do. Wilson is a good person, a great quarterback, and at the end of the day, one outweighs the other.
Russell Wilson hosts vaccine special
Maybe there are some who don't like the idea of vaccines. But this is a Seahawks site and I don't want to get into the politics. The point is that Wilson believes what he believes and, moreover, believes that people getting vaccines helps the general good. It appears Wilson isn't getting paid to host so he is volunteering for something he believes will help the greater general public.
Seriously. How can someone fault a person for that? He isn't taking a general stance as far as left-right politics. COVID-19 is a real thing that has killed people and has affected millions more. Russell Wilson isn't running for politics. I don't even know what his politics really are and I don't really care so much.
Is Russell Wilson a good quarterback who helps the Seahawks win games? Yes. But if he was my mailman and somehow found a way to do what he thinks helps millions more then that makes me admire him more. Or basically, would I rather have Ray Rice on the Seahawks or Russell Wilson? The answer is Wilson more than Rice or most other players, to be honest.