Seahawks mock draft 2021: Seattle to take a tight end first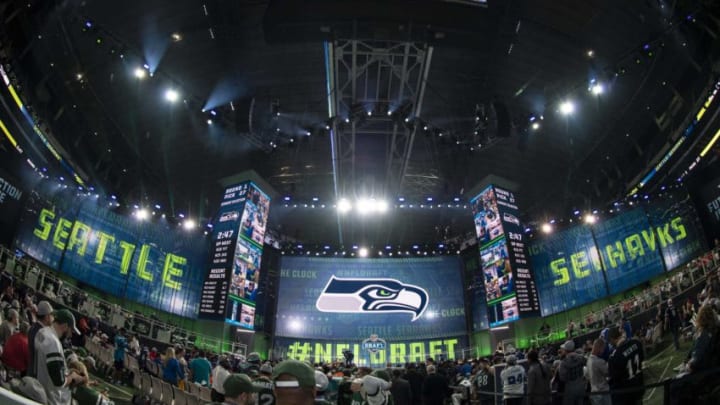 Apr 26, 2018; Arlington, TX, USA; A general view of the stadium floor during the selection of the Seattle Seahawks in the 2018 NFL Draft at AT&T Stadium. Mandatory Credit: Jerome Miron-USA TODAY Sports /
The Trades
I have the Seahawks making 5 trades on draft day that benefit this team in the short run.  Let's go through each of them.
Seahawks move down just one pick and gain a 5th-rounder next year.  Very reasonable.  The only reason not to take this offer would be if the Seahawks had someone like Eric Stokes or Ifeatu Melifonwu fall into their lap at 56.  In this mock draft, both players had already gone.  So I made the move 1 pick back in order to pick up a practically free 5th round pick next year.
The Hawks use this trade to move back 21 more slots for their first pick but swap their 7th-rounder for Pick Number 90, a good move for the team trying to win now.  I didn't see anyone available at 57 that the Seahawks would just love to jump on, so I had them move back a bit and in turn make their 7th-rounder a late 3rd-rounder.
Similarly to the Rams trade, this allows the Seahawks to move back just one spot and get back the 7th round pick they gave up to the Vikings.  The Seahawks give up a tiny bit of 2022 draft capital, which isn't something that would surprise me.  Their 7th round pick in 2022 will likely be a bottom-10 pick.
Seahawks move back from their newly acquired Number 130 pick to go for depth rather than best player available at 130.  When I did this mock, I saw no player at 130 that would significantly benefit this team.  In this draft, I think Seattle will be looking for guys that can help the team in 2021, while also acquiring a bit more depth by trading down in moves like this one.
The final trade I projected the Seahawks to make in this draft to once again draft for depth at positions where they need it.  Just like the trade with San Francisco, as I ran this simulation there was no player available at 172 that I saw benefiting the Seahawks immediately.
Trade Overview
With these trades, the Seahawks move their first selection back from pick number 56 in the 2nd round to pick number 78 in the 3rd.  The maneuvering of the trades overall results in the Seahawks being able to make 8 selections in the draft, 5 more than the 3 they enter the draft with.
The 2022 draft for the Seahawks remains relatively unchanged through these trades.  They get a 5th-rounder but give up a 7th.
Now, let's take a look at the 8 picks I have the Seahawks making.