Seahawks mock draft 2021: Seattle to take a tight end first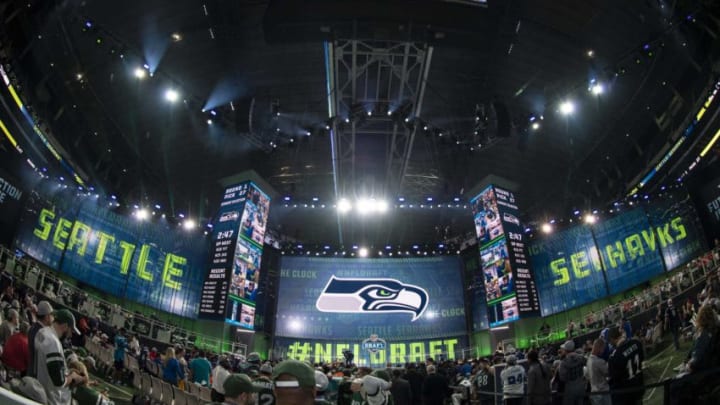 Apr 26, 2018; Arlington, TX, USA; A general view of the stadium floor during the selection of the Seattle Seahawks in the 2018 NFL Draft at AT&T Stadium. Mandatory Credit: Jerome Miron-USA TODAY Sports /
Final Thoughts
I really like the moves I have the Seahawks making in this full mock draft.  They use the more valuable draft capital they acquire through smart trades to fill holes with promising rookies and use later-round selections on players that could turn into superstars.  While 6th and 7th round picks don't ever seem like they can play a big role, let's remember that this is a team that drafted Chris Carson in the 7th round at Number 249 overall!
Brevin Jordan brings blocking expertise and the ability to be a big target in the end zone.  The benefit of making the Jordan selection is the fact that it allows Gerald Everett to play wide receiver for the Seahawks.
Paulson Adebo can start in Week One for the Seahawks across from Ahkello Witherspoon, if he beats DJ Reed out for the spot.  He's a lanky corner with a high ceiling for interception potential and the characteristics of a true lockdown corner in the NFL.
Michal Menet provides excellent depth at center and, while the team may roll with Pocic when the season begins, I think Menet can take over as time goes on.  He's not only physical, but quick.
Khyiris Tonga is a steal in the 6th round if he develops into the player he can be.  He's so fast for his size and could be a really dangerous inside rusher.
Dan Moore, Frank Darby, Isaiah McDuffie, and Pooka Williams can all serve as backups in positions that the Seahawks aren't exceptionally deep at.  I also think that each of them has an X-factor that could make them full-time starters.  For Moore, it's his quickness relative to his size.  It's Darby's big-play potential.  For McDuffie, it's the ability to stop runners in the backfield.  And for Williams, it's the ability to duck through tackles with ease.
This would be an excellent draft for the Seahawks, filling current needs and picking up prospects that, in the future, can fill needs the team will have then.  I would be elated if the draft turned out even somewhat like this for the Seahawks, as it makes them both a better team now and in the future.