How Seahawks NFC West foes should approach the 2021 NFL draft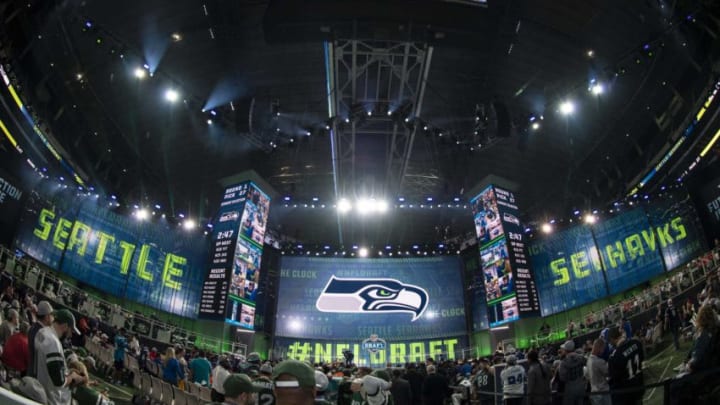 Apr 26, 2018; Arlington, TX, USA; A general view of the stadium floor during the selection of the Seattle Seahawks in the 2018 NFL Draft at AT&T Stadium. Mandatory Credit: Jerome Miron-USA TODAY Sports /
With five days until one of the most anticipated days in the NFL calendar, the first round of the NFL draft 2021, take place, I will take a look at the possible strategies which the Seahawks NFC West rivals could follow in the upcoming draft.
As detailed in previous pieces, the four NFC West teams all rank in my top ten of current rosters in the entire NFL. So we are talking about the best division in the NFL talent-wise, but how will these teams seek to both improve further and possible plan for long-term success as required.
The LA Rams currently rank fourth in my rankings and are scheduled to have six draft picks in the upcoming draft. A second round pick, two third round picks and fourth, sixth and seventh round picks.
What the Seahawks NFC West rivals should do in the 2021 NFL draft
The San Francisco 49ers rank sixth in my rankings and have a healthy nine picks, they have traded up for the third pick in round one, and have subsequent picks in each round including three picks in the fifth round.
The Arizona Cardinals rank tenth in my rankings and have six picks, a first, second, fifth, sixth and two seventh round picks. So how they go about the forthcoming draft and where they are able to strengthen their rosters ahead of the 2021 season will have a direct effect on the prospects of the 9th ranked Seattle Seahawks.
I will go through each team's possible strategies as I see they should be, including each team's draft needs. I have broken these into three different categories, the musts, the needs, and like-to-haves.
By definition, the musts are the ones each team really needs to get done either in this draft or via free agency or trade before the start of the 2021 season.
The needs are the ones that need to get done in order for each team to be as competitive as possible in the upcoming season. The like-to-haves are the ones that add value but are less essential than the musts and the needs.