How Seahawks NFC West foes should approach the 2021 NFL draft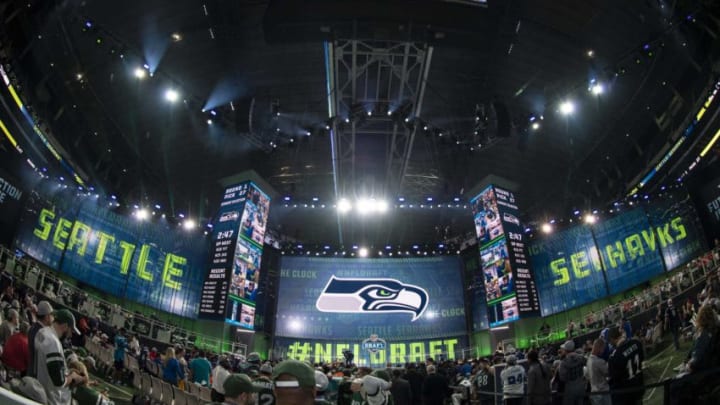 Apr 26, 2018; Arlington, TX, USA; A general view of the stadium floor during the selection of the Seattle Seahawks in the 2018 NFL Draft at AT&T Stadium. Mandatory Credit: Jerome Miron-USA TODAY Sports /
Nick Bosa shakes hands with NFL Commissioner Roger Goodell after being picked second in the first round by the San Francisco 49ers in the NFL Draft Thursday, April 25, 2019, in Nashville, Tenn.Gw50665 /
San Francisco 49ers
As earlier stated I rank the 49ers sixth in terms of their current roster, PFF.com has them at tenth but with a draft capital rank of 13th. So they have more opportunity to upgrade via the draft than the Rams.
The biggest talking point of recent weeks has been the 49ers trade with Miami for the third pick overall, which can only be to take a QB as the successor to Jimmy Garoppolo. With Jimmy G as the current starting QB on the roster this is how I saw their draft requirements.
Musts – None
Needs – Linebacker
Nice to haves – Defensive tackle, guard, another two linebackers, strong safety, quarterback, wide receiver.
So eight requirements from nine picks and the fact that they had no must-dos have probably led to them going all out for the QB of the future with a first round pick.
Round 1 
With Trevor Lawrence and Zach Wilson almost certainly headed to Jacksonville and New York with the first two picks, the option for the 49'ers will be Justin Fields (Ohio State), Trey Lance (North Dakota State) or Mac Jones (Alabama)
I will be grading the 49ers pick on the site on draft night, so will not give the game away here as to how I see it. But, what I can say is that Jones is probably the readiest to start game 1 of 2021, Fields must be a candidate to take over from Jimmy G during the season, and Lance is probably a longer-term project.
All three are very talented, but which one they pick may mean more to Jimmy G's future role with the 49ers than anything else.
Round 2
Having gone QB in round 1, the 49ers should go LB in round 2 in my opinion.
Apart from Fred Warner the 49ers linebackers do not look good enough.
Azeez Ojulari (Georgia) or Jabril Cox (LSU) look the best options to me.
Round 3
A right defensive tackle, right guard or another linebacker are the positions the 49ers should look at with pick 102.
Jerome Johnson (Indiana) as a defensive tackle to play alongside Zach Kerr would be the best selection with this pick for me.
Round 4
The 49ers fourth round pick comes just 15 picks after their third round pick and should be used on a guard or linebacker.
Aaron Banks (Notre Dame) would be my pick at guard here.
Round 5 
With three picks in this round the 49ers war room will be looking at what is likely to happen between their picks to decide which position to prioritize in this round.
Whichever order they pick them a linebacker, strong safety and wide receiver should be targeted in this round.
Personally, I would go Cornell Powell (Clemson) at WR, followed by Malcolm Koonce (Buffalo) at LB and Darrick Forrest (Cincinnati) at safety.
Rounds 6 & 7
Like the Rams, the 49ers could easily look for a kick returner with a late-round pick, again Darden and Roberson are options, as would be CB Avery Williamson from Boise State in that role and as a depth nickel back. And they have the luxury to take a punt on one more linebacker too.