Seahawks 2021 NFL draft: Hawks check all the boxes on day three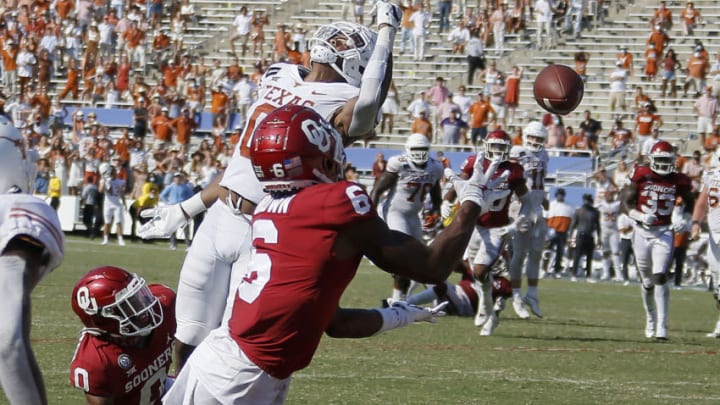 Oct 10, 2020; Dallas, TX, USA; Oklahoma's Tre Brown (6) intercepts a pass in front of Texas' Tarik Black (0) to end the Red River Showdown college football game between the Oklahoma Sooners (OU) and the Texas Longhorns (UT) at Cotton Bowl Stadium in Dallas, Saturday, Oct. 10, 2020. Oklahoma won 53-45 in four overtimes. Mandatory Credit: Bryan Terry-USA TODAY NETWORK /
The Seattle Seahawks came into the 2021 draft with the fewest picks since Noah grabbed two hamsters for the Ark. Okay, he took several duos, but you get the picture. It was still incredible that the Hawks began the 2021 NFL draft with just three draft picks. What's even more startling is that they ended with three.
I mean, I'm still in shock. We all are, right, 12s? John Schneider didn't earn his reputation of trading down to the depths of Tartarus in every draft by standing pat. The Hawks have never had fewer than eight picks under Schneider and Pete Carroll, and yet, here we are with just three picks at the end of the process.
Oh, Schneider still swapped picks, don't worry about that. He'd probably have to check himself into an asylum if he didn't make at least one juicy trade during the draft. That action came on Day Three, as Seattle sent pick 129 to Tampa Bay to drop to number 137. The Seahawks then jumped up from 250 all the way to 208 in a swap with Da Bears.
Seahawks had a fantastic day 3 of the 2021 NFL draft
You've already read about their selection of wide receiver D'Wayne Eskridge. You have read all about just how great this is, haven't you? Go on, go ahead. I'll wait. Oh, and while you're at it, check out why the selection of cornerback Tre Brown is exactly what the Seahawks needed in that slot. Slot…get it? Yeah, okay, maybe he'll play outside, but it's all about the versatility. Listen, you need to read about the last piece of the puzzle, too. See how the addition of mammoth tackle Stone Forsythe can pay dividends for the Seahawks for the next decade.
As I said, I am absolutely flabbergasted, gobsmacked, and stupified by the Seahawks decision to stand pat -mostly – with just three selections in the draft. I imagine all 12s are, in a word, surprised. Three players – that still blows my mind. Did you realize that the Hawks actually had a three-player draft once before, though? Yeah – thing is, it was the supplemental draft in 1984. Seattle pulled 11 other guys in the regular draft that year.
So, a three-player draft is pretty weird. I will also say that this was a very good draft. Virtually all the draftniks identified three needs in this draft for Seattle – wideout, corner, and O-lineman. The Hawks checked off the first box on day two and inked in the latter two on day three. They may have just gotten three players, but they picked up three very good ones that each address very specific needs. For the smallest draft in the history of the team, Seattle did very well indeed.
+