What the Seahawks should expect from D'Wayne Eskridge in 2021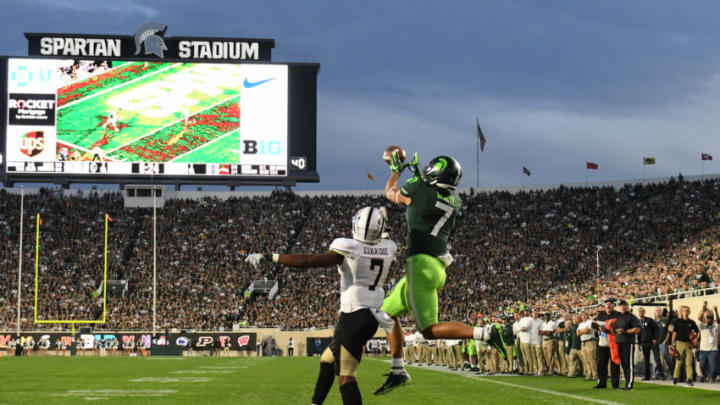 Cody White of MSU tries to snag a pass in the end zone against D'Wayne Eskridge of WMU Saturday, Sept. 7, 2019, at Spartan Stadium.Msu Vs Western Michigan /
Mandatory Credit: Joe Nicholson-USA TODAY Sports /
What Seahawks should expect from D'Wayne Eskridge in 2021
Eskridge's first objective has to be to secure the role as WR3, which means showing in this year's softened pre-season or early in the regular season that he can outperform incumbent WR3 Freddie Swain and fighting off any challenges from UDFAs.
Swain recorded 159 yards and 2 touchdowns in his rookie season, not bad from a sixth round draft pick.
But as a second round draft pick, Eskridge must be expected to quickly establish ascendency over Swain. Many, including myself, had Eskridge mocked as a round 4 or 5 draft pick, so have the Seahawks made too big a leap of faith with Eskridge?
Terrace Marshall, Jr. went just three picks after Eskridge, whilst not the slot receiver the Seahawks were looking for, Marshall's stock fell pre-draft due to an injury. When healthy it probably would have gone 20-30 picks earlier, so longer-term would have been a better option to replace Lockett.
Tutu Atwell has a similar profile to Eskridge and went one pick after him. Another 9 receivers went in rounds 3 or 4 before the Seahawks picked again at pick 137.
So Eskridge needs to outperform most or all of them in order to justify his second round pick, if he performs toward the bottom end of that group of nine, you would have to question the worth of spending a second round pick that you could have got him or similar with your fourth round pick.
But who am I to second guess the professionals who have scouted these guy's for months and decided Eskridge was their man? Eskridge will also face competition from three reported UDFA's in Tamorrion Terry, Cade Johnson and Connor Wedlington.