What the Seahawks should expect from D'Wayne Eskridge in 2021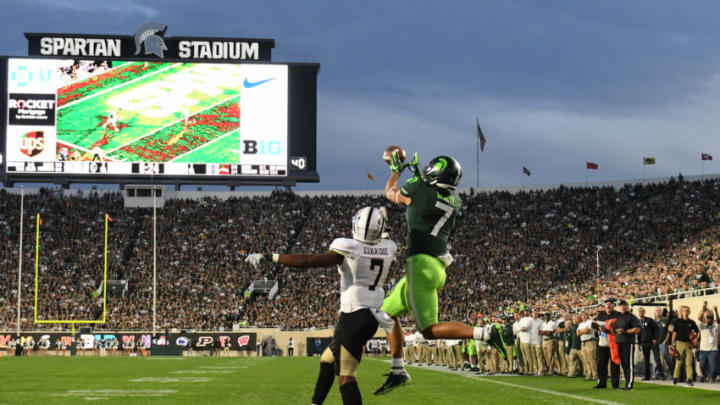 Cody White of MSU tries to snag a pass in the end zone against D'Wayne Eskridge of WMU Saturday, Sept. 7, 2019, at Spartan Stadium.Msu Vs Western Michigan /
(Photo by Don Juan Moore/Getty Images) /
Plenty of competition for Eskridge
Tamorrion Terry will provide the greatest threat, he produced 2230 scrimmage yards and 18 touchdowns in 31 games as a Seminole, at an average of 71.9 yards per game and 0.58 TDs per game. Eskridge produced 2360 scrimmage yards and 15 TDs at Western Michigan, averaging 54.9 yards per game and 0.35 TDs per game.
I was amazed Terry went un-drafted and he is an excellent pick up for the Seahawks, he should knock Freddie Swain down the depth chart and is a threat to Eskridge's playing time too. Cade Johnson had 3,054 yards and 28 TDs from 47 games at South Dakota. This is an average of 65 yards per game and 0.59 TDs per game.
Connor Wedington out of Stanford does not have stats anywhere near the other three for the Cardinal, but is a definite kick return specialist.
So Terry had better production and at a higher level of competition, he and Eskridge are likely to compete for roles as receivers, whereas Johnson and Wedington look set to compete for kick returning duties.
Production target for 2021
There were nine receivers taken in rounds 2 and 3 of the 2020 draft, who were Tee Higgins, Michael Pittman, Laviska Shenault, KJ Hamler, Chase Claypool, Van Jefferson, Denzel Mims and Devin Duvernay
Those nine averaged 470 yards and 3 touchdowns in the 2020 season. If the Seahawks get 500 yards and 4 touchdowns out of Eskridge then he will have had a very good rookie campaign, and he also looks set to play a role in the return game.
For further comparison Tyler Lockett had 664 yards and 6 touchdowns, Metcalf had 900 yards and 7 TDs in their rookie seasons. Legendary UDFA receiver Doug Baldwin had 688 yards and 4 touchdowns as a rookie.
500 yards and 4 touchdowns would therefore certainly establish Eskridge as a good WR3 for the Seahawks.
If Terry is as good as I think he is then added to Swain, the Seahawks will have plenty of depth behind Metcalf and Lockett which was an issue pre-draft. So the Seahawks look to have done a really good job solving this issue at a very low cost cap-wise ahead of the 2021 season.