Seahawks should target these potential NFC North cap casualties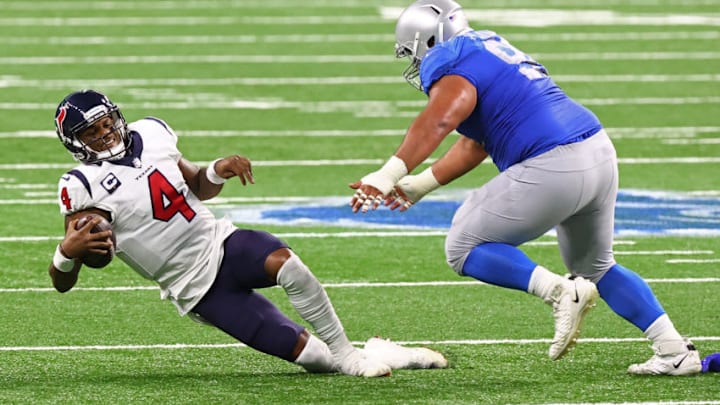 DETROIT, MICHIGAN - NOVEMBER 26: Deshaun Watson #4 of the Houston Texans is sacked by Nick Williams #97 of the Detroit Lions during the first half at Ford Field on November 26, 2020 in Detroit, Michigan. (Photo by Rey Del Rio/Getty Images) /
For the second part of the series that looks at potential salary cuts around the NFL, we will be looking at players who may be cut from rosters in the NFC North after June 1 to save their teams some cap space for 2021.  I didn't see any stellar targets for the Seahawks coming from the NFC West, but there may be one or two coming out of the North.
Should the Seahawks go after them, though?  And if they do, how would they benefit Seattle's roster?
Seahawks potential cap casualty targets from the NFC North
Chicago Bears:  Charles Leno, LT:  The Bears will save $9 million against the cap for 2021 by releasing Leno after June 1.  They have actually already announced that Leno will be cut, so this is one we know will be a free agent.  Leno has anchored the Bears' line for four seasons, but I don't think the Seahawks should pursue him.
We drafted Stone Forsythe so that he can take over at left tackle when Duane Brown is gone.  If for some odd reason the Seahawks move on from Brown before 2021, Leno would be a good pickup.  But the Hawks should roll with Brown, and therefore not target Leno.
Detroit Lions:  Nick Williams, DT:  Williams is a powerful force on the interior of the defensive line, and the addition of Michael Brockers may allow the Lions to dump him.  They would save $2 million by doing so.  Williams stands 6'4″ and weighs 309 pounds, and would help boost the interior along with Poona Ford and Al Woods.
Seattle is pretty deep on the D-line, but they didn't draft any help and Williams would be cheap on the open market if Detroit cuts him.
Green Bay Packers:  Lucas Patrick, G:  I think the Packers will hold Patrick for this year because cutting him saves them only $2 million.  They also lost Corey Linsley from the interior of the line.  However, if Rodgers leaves, they may want to cycle out offensive linemen.  Cutting Patrick would allow Elgton Jenkins to step up as a starter.
For less than $2 million in 2021, I don't think it would hurt the Seahawks to pick Patrick up.  He would be a good insurance policy for Gabe Jackson, Damien Lewis or even Ethan Pocic.
Minnesota Vikings:  Brian O'Neill, RT:  O'Neill is the Vikings second-highest-paid offensive lineman for the Vikings and they will want to keep the line strong for Dalvin Cook and their running game.  But they'll have a big upgrade at left tackle with Christian Darrisaw coming in, and would save $2.4 million by cutting O'Neill.  To be honest, though, I would rather the Seahawks go after someone like Lucas Patrick than O'Neill.  I think Brandon Shell is better than people give him credit for.
Overall, the NFC North is more intriguing for the Seahawks when it comes to potential cap casualties.  I still don't see one player in specific that the Seahawks could afford that would give them a boost to the top.  The NFC East is the next division I'll go through, and it includes one player I would love to go after if he's released.