Seahawks 2022 draft: Early preview of what Seattle might do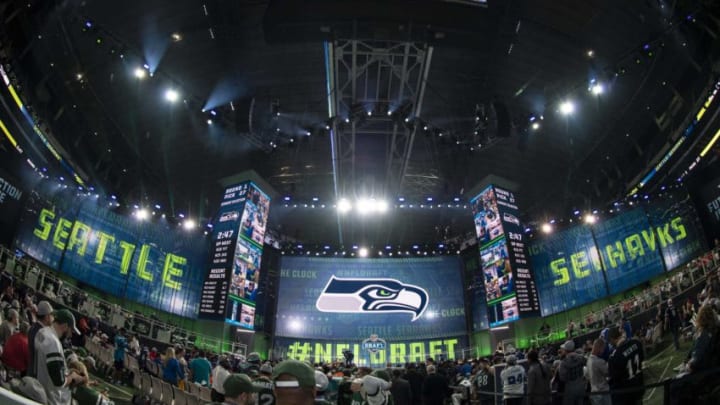 Apr 26, 2018; Arlington, TX, USA; A general view of the stadium floor during the selection of the Seattle Seahawks in the 2018 NFL Draft at AT&T Stadium. Mandatory Credit: Jerome Miron-USA TODAY Sports /
As a final draft-related piece for this year, I will take a look at how the Seahawks roster looks longer term, and how this may give us some indication of what positions they may be looking at adding to, after the 2021 season.
This could be via free agency, but in terms of targeting players for the long term, this may come via the draft.
I have broken this down by position, so this should give us a bit of an insight in to what areas the Seahawks could be looking to address in the 2022 draft.  To do so, I have looked at all 83 players listed on Spotrac.com as Seahawks assets, what age these players are and when these players enter free agency themselves.
What the Seahawks should do in the 2022 NFL draft
I will also nominate the best college players at each position to keep an eye on in the next twelve months, as they may be the players that are targeted by the Seahawks in next year's draft.
Just to put this into some context in terms of free agency, of the 83 players listed as Seahawks assets, a massive 42 of them enter some form of free agency in 2022, a further 17 in 2023 and another 18 in 2024
So only 5 are contracted beyond 2024, who are Tyler Lockett, D'Wayne Eskridge, Stone Forsythe, Jordyn Brooks, Tre Brown. 51 of the 83 are unrestricted free agents within the next three years, 11 are restricted free agents and 16 are exclusive-rights free agents.
The Seahawks only have ten of their 83 players listed that are currently age 30 or above though, so age is less of an issue than free agency, although at certain positions such as OT, DE and LB age of the starters needs to be considered when planning long term.
To have 25 URFAs next close season is not ideal, albeit some of these are depth players rather than starters, it does mean that salary cap management will be an issue next close season for the Seahawks, so if they can address some or all of those via the draft, that is the most cost-effective way to do so.