Predicting the Seahawks three breakout stars of 2021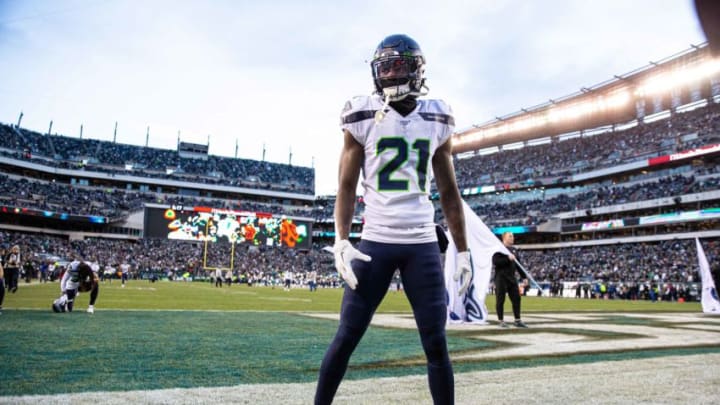 Jan 5, 2020; Philadelphia, Pennsylvania, USA; Seattle Seahawks cornerback Tre Flowers (21) before a NFC Wild Card playoff football game against the Philadelphia Eagles at Lincoln Financial Field. Mandatory Credit: Bill Streicher-USA TODAY Sports /
The Seahawks have a talented roster heading into the season. But every team relies on lesser names to help them be good. Seattle is clearly no exception and as we have learned cannot simply rely on Russell Wilson to always be great to win games. Seattle needs more.
This offseason Seattle re-signed Carlos Dunlap and brought in Kerry Hyder and Aldon Smith so the defensive line is better. Seattle signed a bunch of cornerbacks but there is still a question mark at the position.
Offensively, the Seahawks signed tight end Gerald Everett and drafted D'Wayne Eskridge. The skill position players for Seattle should be even better. But who is going to be unexpectedly productive for the Seahawks? Here are three that could.
Seahawks three breakout stars of 2021
Tre Flowers, Cornerback
Flowers is in a walk year. Seattle chose him in 2018 and moved him to cornerback though he mostly played safety in college. The thinking was that Pete Carroll likes big cornerbacks and has clearly done well with them (Richard Sherman, hello!). Flowers at the end of 2018 looked promising. In 2019 he looked decent but not a sure thing. Then 2020 started and Flowers was awful.
Flowers QBR-allowed was 72.5 in 2019 and that's really good. But in 2020 it jumped to 105.7 which is not. But Flowers got better halfway through the season and was playing pretty good ball by the end of the year. I think he comes into 2021 knowing his career is on the line and with a better understanding of himself and becomes a very good corner.
Rashaad Penny
Like Flowers, Rashaad Penny is in a walk year too. Though a former first round pick, the Seahawks have chosen not to exercise their fifth year option with Penny. Penny has simply been hurt too much and has not been reliable to be expected to play from week to week.
But Penny does have ability as his career 5.1-yards-per-carry shows. He can be explosive, just as his touchdown run against the Eagles in 2019 proved. Penny is the undoubted backup to Chris Carson for Seattle and, if healthy, will get a lot of carries. He can make a lot of money for himself in 2022 if he can be really good in 2021 and I think he will be.
Rasheem Green
Green is also, yes, in a walk year. But at this point, he won't make a lot of money as his production hasn't been overwhelming for a defensive end. And this is OK for the Seahawks because Green is much more than a pure edge rusher. He has the capability of playing inside and out along the defensive line and I think Seattle uses him on the inside a lot this year to help supply inside pressure on opposing quarterbacks.
Green did lead Seattle in sacks in 2019 with just 4. (How bad was the Seattle pass rush two years ago?) He won't lead the team in sacks again this year but if he can get to 6 (not out of the question as he had those 4 sacks in 2019 while playing just 51 percent of defensive snaps) then he will earn a nice increase in his salary next year.