Seahawks news you may have missed from last week: Cut down day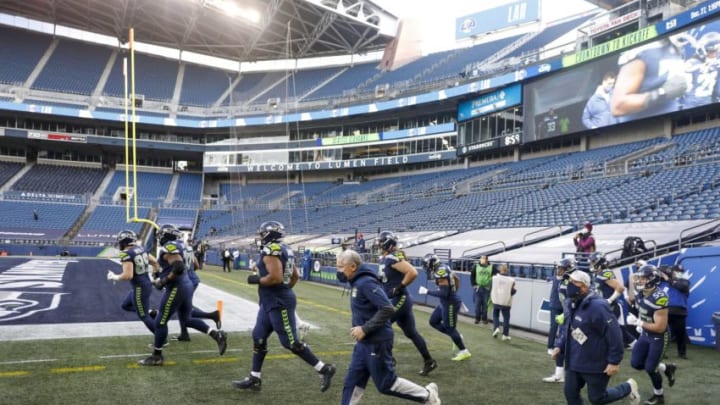 Dec 27, 2020; Seattle, Washington, USA; Seattle Seahawks head coach Pete Carroll runs out of the locker room with players and staff before kickoff against the Los Angeles Rams at Lumen Field. Mandatory Credit: Joe Nicholson-USA TODAY Sports /
There was no earth-shaking Seahawks news from last week, but some notable nuggets will affect Seattle in the near future. Some of these have to do with the NFL preseason schedule. Another about the 12s themselves. And another with the Seahawks front office.
While we are all ready for the Seahawks to start the next season in hopes the current roster can create a long run to a Super Bowl win (Seattle could be good enough to do just that), roster choices will be crucial, obviously, towards getting the team right to win games.
But that 12s get to see the Seahawks live is a huge deal. Seattle just seems better with fans at Lumen Field.
Seahawks news from the last week of May
Cut down days
Last year NFL team had to cut the team down to an active 53-man roster just days before week one of the regular season and all the cuts were made at once. This year, the Seahawks and every other NFL team will have three different times to trim the roster and the final one will take place over a week before week one.
The cut down days are this:
August 17th: Roster goes from 90 players to 85
August 24th: Roster goes from 85 players to 80
August 31st: Roster goes from 80 to 53
12s can likely show up!
30 of 32 NFL have obtained approval for having full stadiums at the start of preseason. Seattle is one of the 30 teams. The Seahawks are thrilled to be actively preparing to host fans' at Lumen Field, per an article from the Seattle Times. Considering Seattle's home stadium sat empty during the 2020 season and that Seattle still did well when this is a team normally fueled by the emotion of the 12s, getting 12s back to voice their emotions live at games is a very great thing.
Front office title changes
Seattle promoted four front office members this past week and added Vice President to their titles. These included Vice President of Human Resources Sarita Carter, Vice President/General Counsel Alen Cisija, Vice President of Finance Pete Fonfara and Vice President of Corporate Partnerships Lisa Young.