Seahawks should not trade for Julio Jones and here is why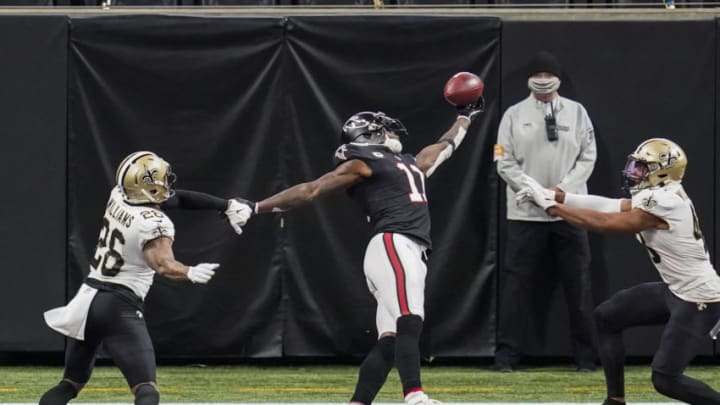 Dec 6, 2020; Atlanta, Georgia, USA; Atlanta Falcons wide receiver Julio Jones (11) is defended by New Orleans Saints cornerback P.J. Williams (26) and safety Marcus Williams (43) preventing a touchdown on a fourth down play during the second half at Mercedes-Benz Stadium. Mandatory Credit: Dale Zanine-USA TODAY Sports /
The Seahawks should not trade for receiver Julio Jones. Jones has reportedly been linked to Seattle over a number of days now. But to be fair, he has been linked to a lot of teams. Who wouldn't want such still-fantastic receiver. And a Hall of Fame receiver at that.
Jones played in only 9 games last year. But this really shouldn't be indicative that he will miss bunches of games in the future. Yes, he is 32 years old but he has never been a receiver purely about speed. He knows how to use his 6'3″ height to get open. Jones would be a great possession receiver and not just a downfield target.
But before playing just 9 games in 2020, Jones did not miss more than two games in any season since 2013. Most likely, Jones will play at least 15 games (the NFL season is now 17 games so missing two of them would mean a player plays 15) and be very good. But it won't be with his current team, the Atlanta Falcons, either.
The Seahawks do not need Julio Jones
And it shouldn't be with the Seahawks. While it is intriguing to think of Russell Wilson having a receiving corps that has Julio Jones, D.K. Metcalf and Tyler Lockett, Wilson already has good targets and adding Jones is adding and spending money on a player at a position that isn't really a priority right now.
Lockett, Metcalf, recent-draftee D'Wayne Eskridge, tight ends Will Dissly and Gerald Everett are plenty good on their own and don't need another receiver added to the mix no matter how great that receiver might be.
The Seahawks, according to Over the Cap, have $7.255 million in cap space currently. They don't actually need to spend any of that. The roster is good enough to win lots of games as is. But if the Seahawks were going to spend some of that money it would be wiser to spend it on someone like Richard Sherman at cornerback than a receiver. Seattle has a far greater need in the secondary than weapons for Russell Wilson.
And while Julio Jones will be a first-ballot Hall of Famer, he has never produced touchdowns at a rate one might expect. Just 7.1 percent of Jones' career 848 receptions have gone for touchdowns. Only once has he passed 10 or more touchdown catches in a season (2012). Tyler Lockett, in comparison, has seen 9.8 percent of his 376 career catches result in points.
So adding Julio Jones might not mean more direct points for the Seahawks; It may only more passing yards. David Moore, in no way as good as Julio Jones, has 13 touchdown receptions in 78 career catches. That is 16.6 percent.
And Jones wasn't having to be the only target for Matt Ryan in Atlanta. Calvin Ridley is really good too. And Ridley has 26 touchdown catches in 217 career catches, 12 percent of the time.
My argument overall here is not that Julio Jones is not a good receiver because he isn't. He is a great receiver. But adding him to the Seahawks won't necessarily add more wins, just better statistics for Russell Wilson. Seattle has greater needs than adding another receiver.