Jon Rhattigan might be the next great Seahawks steal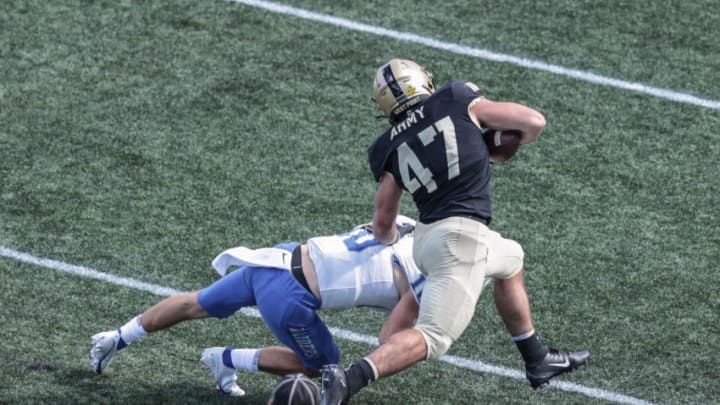 Sep 5, 2020; West Point, New York, USA; Middle Tennessee Blue Raiders quarterback Asher O'Hara (10) misses the tackle on Army Black Knights linebacker Jon Rhattigan (47) as he runs an interception in for a touchdown during the second half at Michie Stadium. Mandatory Credit: Vincent Carchietta-USA TODAY Sports /
The Seahawks need depth at linebacker but also like to use that depth on special teams. Jon Rhattigan might just be your next favorite player in Seattle. Rhattigan is an undrafted player out of Army who has always had to prove his worth in earning playing time. But once he is on the field, he impresses. And he doesn't quit.
Rhattigan might be the perfect Pete Carroll player who is not an obvious starter. Carroll likes players who believe in team first and don't mind doing the dirty work that is the building blocks for victories.
There are a few Carroll-type archetypes. One is tall and lanky corners with wide wing-spans. Another is big running backs. But a third is players, like Neiko Thorpe and Ricardo Lockette and Nick Bellore, who will do whatever they are asked to do to help their team win.
Jon Rhattigan could be with Seahawks for a long time
This is Jon Rhattigan. But this doesn't mean to imply Rhattigan doesn't have a lot of talent. He does. And one thing that Rhattigan does really well fits perfectly with Carroll's philosophy: Tackle and tackle well.
Rhattigan didn't really have a chance to produce a lot of statistics during his first three years at Army. After not playing much at all in his first two years, he played a bunch of special teams as a junior. But in his senior season, he finally got a chance to start and did so well he earned Second-Team All-America honors. Rhattigan waited for his time and made the most of it.
And he could easily do the same with the Seahawks. While he went undrafted – likely due a lot to not having a lot of starts in college and teams also unsure of whether the military would clear him to play in the NFL – he will likely impress in offseason workouts and will be fun to watch in preseason games. Rhattigan should get on the field a lot during those games.
But besides being a special teamer and a backup linebacker, the Seahawks might see Rhattigan as a Nick Bellore-type player. Bellore was also once a linebacker and then became a fullback. But Bellore is so much more than a fullback. In fact, Bellore made the Pro Bowl in 2020 just for special teams. Bellore has also played whatever asked since he started in the NFL and turned it into a 10-year career.
Jon Rhattigan is a lot like Nick Bellore. Once Bellore on a roster is a great thing, but two Bellore-types? That makes special teams even better. Bellore and, likely Rhattigan, don't play football because they know they are going to make $10 million a season. They play football because they love football. And they are both team-first guys. Just the way Pete Carroll likes them.