Three trades Seahawks should make to make 2021 better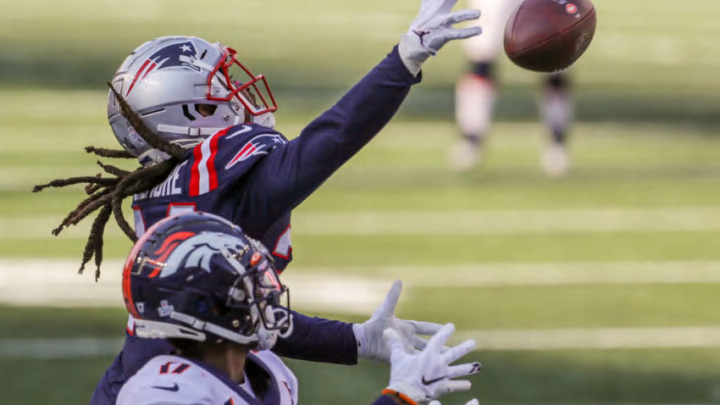 Oct 18, 2020; Foxborough, Massachusetts, USA; New England Patriots cornerback Stephon Gilmore (24) breaks up a pass to Denver Broncos receiver DaeSean Hamilton (17) during the second half at Gillette Stadium. Mandatory Credit: Paul Rutherford-USA TODAY Sports /
The Seahawks could make some more free agent signings, of course, but with a few trades, the Seattle roster might be Super Bowl-worthy. Maybe the roster already is but then, so is nearly every other NFC West team. Seattle's division is in an arm's race currently.
Seattle needs to stay healthy at key positions but also needs unproven players, like Darrell Taylor, to play well. But what if Seattle were to add quality talent via trades? This isn't unimaginable and something general manager John Schneider has done in the past, especially as the season gets close. Exhibit A may be Seattle trading for Jadeveon Clowney just before the 2019 season.
But which players should Seattle go after and which ones might help the roster the best? Possibly the three that follow.
Seahawks should make trades to go all-out for the Super Bowl in 2021
Stephon Gilmore
I have written about this before but more in terms that I thought Gilmore might get cut by the Patriots after June 1st to save some cap space. However, that is now unlikely to happen. But Gilmore could still be a great trade for the Seahawks.
Currently, Seattle has two potential weaknesses on its 2021 defense. One is depth at defensive tackle (more on that in a minute). The other is at cornerback. Adding Gilmore would completely fix this issue. Seattle currently has no first round draft pick in 2022 but does have one for every round thereafter.
Would the Patriots take a third-rounder for Gilmore? If so, the Seahawks should jump at this. I would even be OK with giving New England the 2022 second-round choice instead.