Seahawks schedule breakdown: Early preview versus Vikings week 3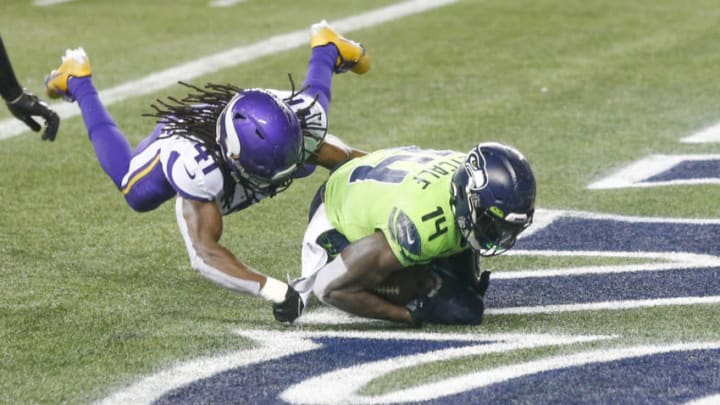 Oct 11, 2020; Seattle, Washington, USA; Seattle Seahawks wide receiver DK Metcalf (14) catches a touchdown pass against Minnesota Vikings free safety Anthony Harris (41) during the fourth quarter at CenturyLink Field. Mandatory Credit: Joe Nicholson-USA TODAY Sports /
The Seahawks have a daunting schedule to open the season. Oddly., while the Vikings are a good team, week three might be the easiest of Seattle's first 7. Or maybe not. I don't know. The NFL changes so much from year to year and even though the Vikings started 1-5 in 2020 they were good enough to still almost make the playoffs.
One good thing for Seattle is that this is a 1:25 pm PT start so something the Seahawks will be used to instead of an early 10 am PT start. Minnesota still has home-field advantage but at least it's a tinge bit more limited.
So what should 12s look for when Seattle plays the Vikings in week 3? Maybe a bit of the below.
Seahawks and Vikings could be key matchup in 2021
Vikings key additions: Cornerback Patrick Peterson and defensive tackle Dalvin Tomlinson
The Seahawks simply cannot get rid of Patrick Peterson. Paterson played with the Arizona Cardinals for a number of seasons and knows what Russell Wilson will try to do. Peterson is also an upgrade over what the Vikings have had a cornerback the last few years.
Tomlinson isn't likely to get much pressure from the inside of the defensive line but he is an excellent run stopper so if Shane Waldron wants to choose the Vikings game as the game the Seahawks run a lot of inside stuff, it may not be wise.
Vikings key departures: Tight end Kyle Rudolph, offensive tackle Riley Reiff and kicker Dan Bailey
The Vikings might learn what the Seahawks did when Seattle let Stephen Hauschka go in 2016. Hauschka wasn't a Pro Bowler always but he was consistent. Same with Bailey. Yes, he had a not-great season in 2020 but he's better than Blair Walsh.
Rudolph has been less and less productive but still solid and the Vikings will probably miss him more than they think.
Seahawks advantages: Russell Wilson and Chris Carson
Last year the Seahawks played a weird game against the Vikings. Minnesota led what felt like 100-0 at halftime and then Seattle came back to win 450-100. Russell Wilson struggled quite a bit against two safeties high last year and this started with the Vikings game. Minnesota still has two good safeties but Wilson has a better offensive coordinator so he will adapt better.
And Seattle's receivers are better than the Vikings secondary.
Yeah, sure. The Vikings added Tomlinson but this is the game to let Carson run. He could have 150 yards if all goes well and Seattle will eat clock and dominate the game. Seattle could win this 30-10.
Seahawks disadvantages: The Vikings can run the ball really well, Vikings play two safeties deep
Well, then again, maybe Wilson will just struggle against the talent of the Vikings safeties. Harrison Smith is one of the best in the game even though he is getting older. He still has the speed and intelligence to read Wilson and try to pick a pass or two.
Dalvin Cook is a great running back coming off of a career year. Minnesota has a good offense and will also have a new offensive coordinator. Seattle will need to prove it can stop the run or the Vikings will have 200 yards rushing in week three.