Seahawks should start these three cornerbacks in 2021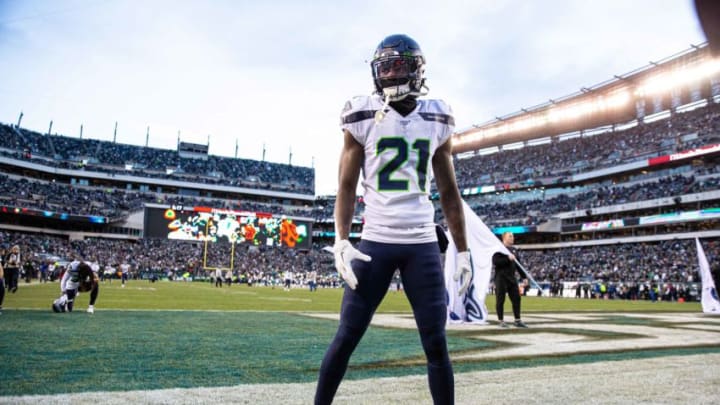 Jan 5, 2020; Philadelphia, Pennsylvania, USA; Seattle Seahawks cornerback Tre Flowers (21) before a NFC Wild Card playoff football game against the Philadelphia Eagles at Lincoln Financial Field. Mandatory Credit: Bill Streicher-USA TODAY Sports /
The Seahawks have a big question mark at cornerback heading into the 2021 season compared to the rest of the defense but they aren't without talent. At times, Tre Flowers, D.J. Reed, Pierre Desir and Ahkello Witherspoon have all shown flashes of being quality long-term starters in the NFL but none of them have yet proven they can do that. Plus, Seattle drafted Tre Brown this year.
None of the above are a shoo-in to be a starter this year. Reed is the most likely choice but he has only one half-year of quality starting experience in the league. Desir, a former Seahawk who is returning this year, has more games of starters experience which both helps and hurts him. Witherspoon gets injured a lot and is also inconsistent in quality. Flowers is simply very inconsistent.
I could throw into the mix Demarious Randall but he has been more of a safety in his career and the fact that Seattle is moving him to cornerback this offseason might show that Seattle is unsure of exactly what they have on the roster as far as outside corners.
Seahawks should start these three cornerbacks this year
And I haven't even brought up slot corner where presumably two players will be battling for the starting nod. Marquise Blair started 2020 at the spot and then got hurt. Ugo Amadi then took over and was pretty good.
So who should start at the Seahawks three cornerback positions this year? These are my three best guesses.
D.J. Reed – Left corner
Reed was a steal when the 49ers were basically forced to let him go in 2020 because they suffered so many injuries and only had so much room on the PUP or non-football injury lists. The Seahawks surely almost tripped over themselves in the rush to sign him. Reed was injured entering the 2020 season but was able to come back and play after six games and was so good so fast that Seattle started him in 8 of the last 9 games.
Reed finished with 2 interceptions and a passer-rating-allowed of 75.8. I am going to throw out Reed's first two years when he allowed a passer-rating-allowed of much more than that because he was targeted just 16 and 12 times, respectively, in 2018 and 2019. Reed also missed on just 3.1 percent of tackles in 2020 so there's that.
Ahkello Witherspoon – Right corner
I am more sold on Reed on starting than any other corner on Seattle's roster. Tre Flowers made a big turnaround midway through 2020 after looking like he should never play a down in the NFL before that. Maybe it was a confidence issue but he did get better. Then he got hurt.
Witherspoon was decent in 2020 with the 49ers but not good before that. In 2018 and 2019 he allowed 7 touchdown passes and then 6, respectively. But the 7 TDs came on 78 targets and the 6 came on 53 targets. That's not good. But he was a bit better last year though in fewer snaps overall. I think he starts just because he played with Reed with the 49ers and they know each other's tendencies. That might not be a great reason but it's a reason nonetheless.
Marquise Blair – Slot corner
Blair needs to be on the field somehow and in some way. He is an excellent tackler as a natural safety but has quick hips and can cover smaller receivers. It helps that he isn't a huge man himself, just tenacious. He also plays with a chip on his shoulder and plays like a backup member of the Legion of Boom.