Jets site throws a little shade towards Seahawks and Jamal Adams trade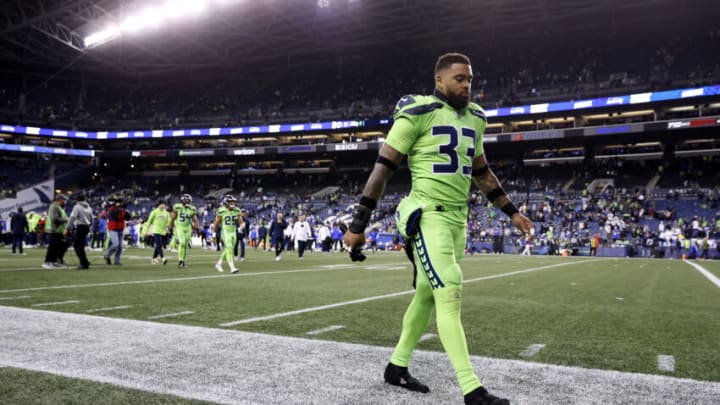 SEATTLE, WASHINGTON - OCTOBER 07: Jamal Adams #33 of the Seattle Seahawks walks off the field after losing to the Los Angeles Rams 26-17 at Lumen Field on October 07, 2021 in Seattle, Washington. (Photo by Steph Chambers/Getty Images) /
FanSided's Jets site, The Jet Press, has already announced New York as the clear winner of the Jamal Adams trade last year. And to be fair from what we know so far, they may not be wrong. Seattle appears to be in for a long season due to the defensive inabilities the team has plus Russell Wilson's finger injury.
When the Seahawks traded for Jamal Adams in 2020, Seattle gave New York two first-round picks – one in 2021 and one in 2022. New York turned one of those into guard Alijah Vera-Tucker. Vera-Tucker was an immediate starter and is currently graded by Pro Football Focus as the 34th-best guard in the NFL. Seattle's guard Gabe Jackson is graded 30th while fellow guard Damien Lewis is 46th.
The Jets are going to be in even better draft position this year with the pick they got from the Seahawks most likely because Seattle is going to have a worse record in 2021 than they did in 2020. As The Jets Press put it, "Not only do (the Jets) have Seattle's first-round pick, but Jamal Adams himself has been partially responsible for helping improve the value of that pick."
Ouch.
Jets winning the Jamal Adams trade to Seahawks
But there's more from The Jet Press such as, "It's hard to have imagined a worse scenario for the Seahawks."
Ouch again.
And, "The more the Seahawks lose, the more the Jets win."
Ouch and ouch again.
And yet, The Jet Press is not wrong. Jamal Adams was somewhat electrifying in 2020 with 9.5 sacks and good help in the run game but his pass coverage deficiencies seemed obvious. We could say they were related to an arm injury late in the season. But Adams is healthy this year and is even worse in coverage while not having any sacks or tackles-for-loss through five games in 2021.
To double down on this, Seattle gave an extension to Jamal Adams this offseason so Adams has a cap hit of $18.1 million in 2023, $23.6 million in 2024 and $24.6 million in 2025. To be clear, I was all good on Adams getting the extension because of his ability to pressure the quarterback and thinking the defense would be better this year. Now that extension looks stupid.
Of course, things can change. Jamal Adams has lots of physical skill and is probably being hindered by his awful defensive coordinator Ken Norton, Jr. who has no clue as to how to best use Adams. But Norton, Jr. isn't going anywhere and neither is Adams. The Jet Press is absolutely correct to this point in 2021. The Jets look to have made a great trade that makes the team better for seasons to come while the Seahawks made a trade that will cost the franchise for years.