Seahawks defeat Jaguars in a feel-good win for Seattle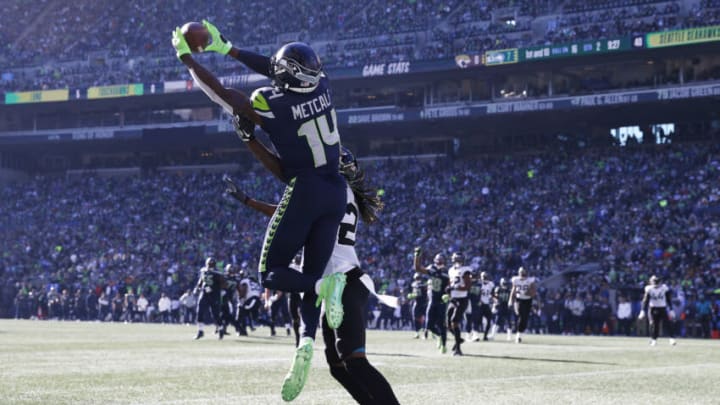 SEATTLE, WASHINGTON - OCTOBER 31: DK Metcalf #14 of the Seattle Seahawks catches the ball over Shaquill Griffin #26 of the Jacksonville Jaguars for a touchdown during the second quarter at Lumen Field on October 31, 2021 in Seattle, Washington. (Photo by Steph Chambers/Getty Images) /
The Seahawks defeated the Jaguars in convincing fashion that proved that Jacksonville is terrible (r proved again this is the case) but that Seattle might just wind up being OK. If – and that is a big if – Russell Wilson can return in week 10, then Seattle would have gone 1-2 in his absence. Based on what the Saints did in beating the Buccaneers and what the Steelers defense did in a victory over the Browns, going 1-2 might not be all that bad.
Of course, this all depends on what Seattle does in week 10 versus the Packers and week 11 versus the Cardinals as 3-7 is still a very real possibility. But so is 5-5 or 4-6 and that might be something Seattle could overcome to get to the postseason once again.
On Sunday, the Seahawks once again showed improvement. Actually, watching the Saints score 36 against the Bucs means Seattle giving up just 13 points in week 7 means maybe the defense is much better than it was through the first five weeks.
Seahawks blow out Jaguars in week 8
The Jaguars did get 309 total yards but a bunch of those were in meaningless 4th quarter garbage time and Jacksonville averaged just 4.2 yards a play. Trevor Lawrence threw for 238 yards but on 54 passes and had a quarterback rating of just 68.3. He was intercepted once and once again it was Seattle safety Quandre Diggs who did it. Diggs now has 11 picks in 29 games since being traded to Seattle.
Seattle had 7 quarterback hits overall and Ryan Neal had a sack. Darrell Taylor basically had a sack too but it wasn't ruled that way as Larence lobbed the ball to no one while almost hitting the ground on the Taylor hit.
Offensively, Geno Smith, who hasn't had a turnover in two straight games, targeted Tyler Lockett and DK Metcalf 19 times and connected on 18 of them. Lockett finished with 12 catches and 142 yards while Metcalf caught all six of his targets for just 43 yards but 2 touchdowns.
Overall, while Seattle was playing a bad team with a terrible head coach, the Seahawks looked good enough to give hope to making the playoffs this year. There is a lot of football yet to play and Seattle will only likely be a Wild Card team but the defense is better and Russell Wilson will be back soon. Seattle on a game they had to win in week 8 and they blew out the Jaguars. That's a great day.