Seahawks vs. Packers: Weather should not be a factor in week 10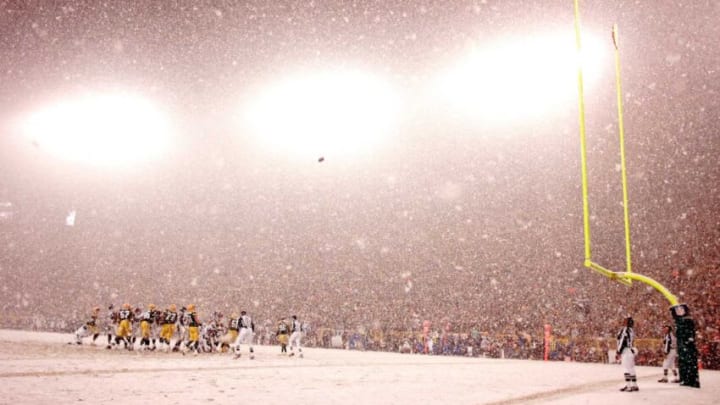 Seattle kicks a field goal in the third quarter while the heaviest snow fell at Lambeau. The Green Bay Packers defeated the Seattle Seahawks 42-20 in the divisional playoff game at Lambeau Field in Green Bay, WI Saturday January 12, 2007.Packers13 Spt Lynn 12 /
The Seahawks need a victory in week 10 over the Packers. But while the game will likely be a tough one, the weather should not be a factor. The only possible issue at this point is that it will be cold. The temperature will be 38 degrees and while that isn't literally freezing, it may affect Russell Wilson's finger as it is not fully healed.
Keeping Wilson's hands warm is going to be extremely important, obviously. Fingers tend to stiffen in cold weather and Wilson probably hasn't had a chance to see how the middle finger on his right will react to cold weather. In fact, we don't know how his finger will react at all to constantly throwing the ball with velocity in a real game.
Otherwise, things could be worse for the Seahawks traveling to Green Bay. The wind should be lessening throughout the day. If the game were to be played at 12 pm CT, for instance, the wind is expected to be blowing from the north at 18 MPH. But at 3 pm CT (just before kickoff Green Bay time), the wind should be 13 MPH.
Weather shouldn't be a factor for Seahawks versus Packers
Also, any snow showers that happen in the morning should be moved out well before kickoff and the field should be in good shape for the game.
The Seahawks need all the breaks they can get in what is as close to a must-win game as a team can have in week 10. A loss doesn't end the season but it pushes Seattle further into the pile of teams in the NFC trying to make the postseason. By the end of the year, a team doesn't want to rely on other teams to lose for that team to make the postseason.
The weather on Sunday, at least, should not be a hindrance for the Seahawks to get a victory. If Russell Wilson can throw as well as he normally does, Seattle has a chance to win.