Seahawks week 15: underachiever and overachiever of the game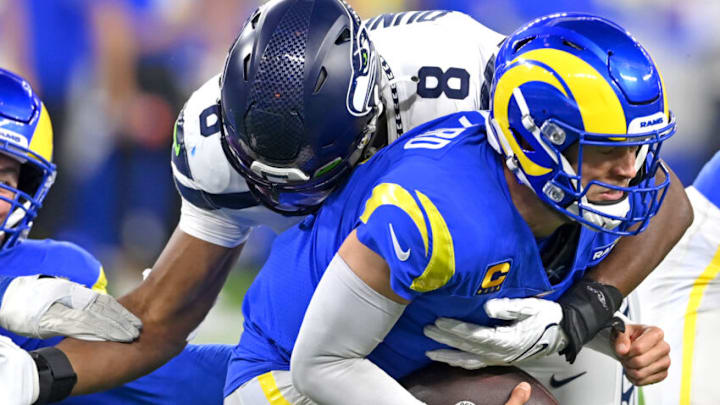 INGLEWOOD, CA - DECEMBER 21: Matthew Stafford #9 of the Los Angeles Rams is sacked by Carlos Dunlap #8 of the Seattle Seahawks in the game at SoFi Stadium on December 19, 2021 in Inglewood, California. (Photo by Jayne Kamin-Oncea/Getty Images) /
The Seattle Seahawks essentially wrapped up their season with a loss to the Rams. One player had a lot to do with that loss, while another nearly salvaged the game. Okay, there was no salvaging this game, but he gave it all he had.
I suppose there's no point in mincing words, 12s. We all know who the underachiever was this past Tuesday. I mean other than the league for the scheduling fiasco. And besides the officiating crew. Using the term "officiating" stretches the definition past the breaking point. Atrociating should be a word; that actually applies.
But enough sour grapes. Despite the best – make that worst – efforts of those groups, the Seahawks still could have won this game. We may not want to admit the real reason the Seattle came up short in Los Angeles, but we know the truth. At least, we do if we're being completely honest about the game, and taking off our Action Green shades.
Seahawks have no one to blame but Russell Wilson
That's right, the Hawks lost because of their quarterback.   I already wrote about Wilson's struggles, so for details, just wallow in the misery there. I think it's fair to say that when a player turns in the worst performance of their career (analysis by Pro Football Focus) he underachieved. Not that we needed validation of his performance.
I do want to add that my comment about the Seahawks coming up short is not a slight aimed at Russ. Neither is the word "slight". I find all the tweets that Wilson is too short to see the open man hilarious. It's absolutely true that he's missing wide-open targets. Often he doesn't spot them at all. But it's not like he used to be 6'4″. Yes, he's having serious issues. But he didn't suddenly turn into Peter Dinklage. He is, by the way, a superb actor, but about as well-suited to playing in the NFL as I am.
Now for the good stuff. We definitely had an overachiever in this contest. In fact, he's probably the biggest reason the Seahawks contested the game at all. I'm speaking of the critically underused Carlos Dunlap. I think three sacks in one game would qualify almost anyone as an overachiever. But a player who came into Tuesday's game with 1.5 sacks on the season? Yes, doubling your season's numbers in one game is pretty good.
Dunlap's numbers have been disappointing so far this year. That's hardly his fault, though. As we've pointed out, oh, 387 times, the Seahawks routinely lose track of their snap counts. Dunlap got 11 snaps combined in the Hawks games versus Washington and San Francisco. No, he hasn't been consistent this season even with more playing time. At some point though, you trust a player with his track record to come through. Add three tackles for a loss and three QB hits, and Carlos Dunlap was clearly the overachiever of the game.