Seahawks draft profile: Running back Isaiah Spiller could start in 2022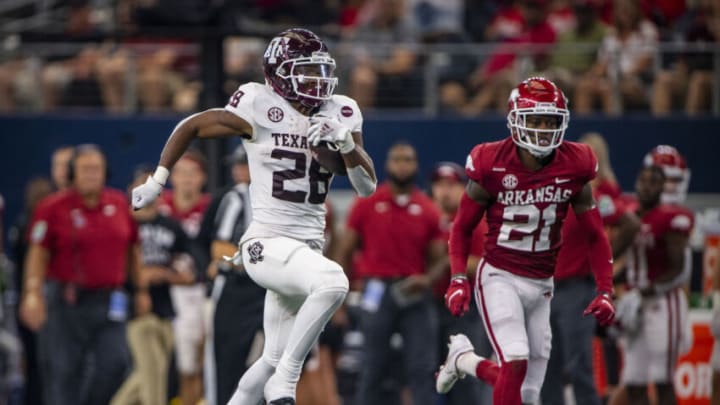 Sep 25, 2021; Arlington, Texas, USA; Texas A&M Aggies running back Isaiah Spiller (28) in action during the game between the Arkansas Razorbacks and the Texas A&M Aggies at AT&T Stadium. Mandatory Credit: Jerome Miron-USA TODAY Sports /
The Seattle Seahawks might need to reshape their running back group in 2022. Chris Carson is coming off an injury, Rashaad Penny is a free agent. Drafting Isaiah Spiller might be the answer Seattle needs.
Head coach Pete Carroll likes bigger backs who can grind out yards. This is one reason Carson was drafted in the seventh round. Carson, obviously, worked out better than anyone could have dreamed off. And drafting Penny in the first round in 2018 was because Penny was fast and a bigger back.
Penny, of course, went all Beast Mode late in 2021 but did very little before that in his four seasons with Seattle. He might need to be re-signed just because he was so otherworldly in the last five games of the year that not trying to re-sign him would be a mistake.
But Seattle needs good running backs to fill out the roster and potentially start sooner than later. This is where Isaiah Spiller comes in.
Isaiah Spiller could be a Seahawks starter in 2023
Because the running back position has been diminished in value recently (this is likely due to running backs being really good for a few seasons but then getting injured and less productive after that) the talents of a player like Spiller go undrafted early in the NFL draft. 20 years ago, Spiller might be a first round pick. Now? Maybe second round but likely later.
This is perfect for Seattle since they don't have a first round choice in 2022 anyway. Seattle shouldn't choose a running back in the second round with the team's first choice either. They have too many holes to fill along the offensive line and in the secondary. But Spiller might fall to the third round.
That is the range currently predicted for Spiller, the 6'0″ and 220 pound back from Texas A&M. If Spiller runs well at the combine he could certainly be a second round lock but the rub against Spiller right now is he is more of a grinder than an explosive runner.
Need a few yards to get the first down? Spiller has the leg strength to do that at any level, NFL or college. But NFL backs who earn first round grades need speed as well. This is why Penny was a first round choice. He was big but could break off long runs. He didn't do this consistently until 2021 but look how much he transformed the offense when he did.
Spiller has excellent balance so can still be upright after first contact. He also has great vision and can see a hole opening before it does based on the blocking scheme and position of the defensive line. Need four yards? Spiller is your guy. Need 40? Maybe he isn't.
But either way, Spiller is the perfect fit for a Seattle offense that needs to pick up more third-and-shorts than third-and-longs. He might not start in 2022 if the Seahawks re-sign Penny and Carson comes back healthy. But Spiller has the ability to start next year and could be penciled in as the starter in 2023.