Seattle Seahawks with 11th-worst odds to win Super Bowl 57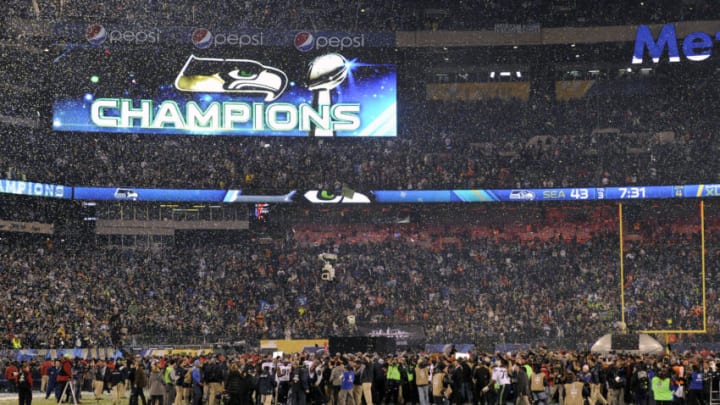 EAST RUTHERFORD, NJ - FEBRUARY 02: The scoreboard shows the Seattle Seahawks as Super Bowl Champions after they defeated the Denver Broncos in Super Bowl XLVIII on February 2, 2014 at MetLife Stadium in East Rutherford, New Jersey. The Seahawks won the game 43-8. (Photo by Focus on Sport/Getty Images) /
Now that the 2021 season is over, 12s can finally look forward to 2022. What are the chances the Seattle Seahawks will win Super Bowl LVII? 
The Los Angeles Rams defeated the Cincinnati Bengals 23-20 in Super Bowl LVI to end the 2021 season. The game was close but not overly exciting. Both teams should be good again next year. But what about the Seattle Seahawks?
According to WynnBET, Seattle isn't going to win Super Bowl LVII. In fact, based on the odds, the Seahawks aren't even going to make the playoffs. Seattle has the 22nd-best odds (+5000) to win the next Super Bowl. This means they have the 11th-worst odds. 14 teams make the playoffs, Seattle, according to the odds, isn't close to that.
The Kansas City Chiefs and the Buffalo Bills are favored to win Super Bowl 57. Both are +700. The Rams and San Francisco 49ers are tied for 2nd at +1200. Arizona is 11th at +3000. So WynnBET thinks the Seahawks won't win the Super Bowl, won't make the playoffs and will finish last in the NFC West again.
Seattle Seahawks don't get good odds for winning next year's Super Bowl
But the Seahawks are better than that, right? Seattle had a one-year blip on an otherwise great resume for Pete Carroll since he came to Seattle in 2010. Seattle has missed the playoffs a few times under Carroll but except for 2021 we could make the excuse that this was due to injuries (2017) or a year at the beginning of the rebuild process (2011).
Expecting Seattle to miss the playoffs for a second straight season based on the history of the last decade seems wrong. Seattle will have lots of talent – Russell Wilson, Jamal Adams, Michael Dickson – and a new direction of defense. They should be better next year.
The Seahawks finished 4-2 in the last six games. That equates to 12-5 or 11-6 over the course of a season and that would have gotten Seattle into the playoffs this year. Hopefully, WynnBET is simply wrong and Seattle is back in the postseason next year with a decent chance to win the Super Bowl.