Why the Seahawks have not signed cornerback Stephon Gilmore yet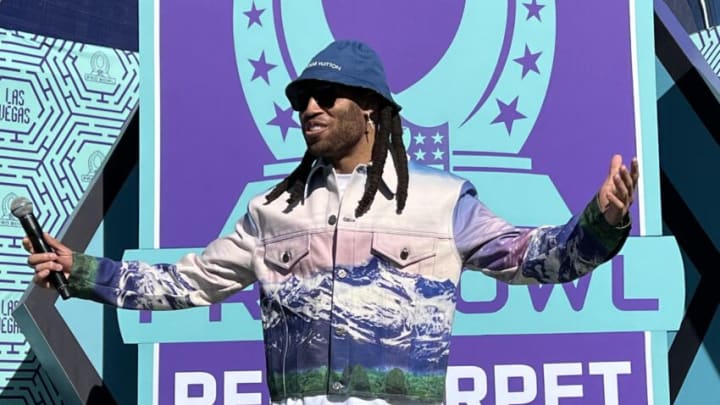 Feb 6, 2022; Paradise, Nevada, USA; NFC cornerback Stephon Gilmore of the Carolina Panthers (9) arrives on the red carpet before the Pro Bowl football game at Allegiant Stadium. Mandatory Credit: Kirby Lee-USA TODAY Sports /
The Seattle Seahawks appear to need cornerback help but haven't truly addressed this in free agency. Stephon Gilmore is still a free agent, however, so why isn't Seattle seemingly aggressively trying to sign him?
If you Google the teams reportedly currently interested in Gilmore, you are likely to find the Panthers, Eagles, Chiefs and maybe the Patriots. Not the Seahawks. Yet Seattle has the money needed to sign Gilmore and the need. Maybe Gilmore wants to sign with what he perceives as a winner in 2022 but maybe Seattle should sign Gilmore to a two-year deal. Seattle should be better in 2023.
Sidney Jones was solid at the end of 2021 for Seattle. Tre Brown showed promise in limited time last year too. But Seattle's best corner, D.J. Reed, left in free agency. Seahawks coach Pete Carroll doesn't think in terms of his teams being incapable of consistently winning.
Why does it seem the Seahawks aren't pursuing Stephon Gilmore?
Ask Carroll right now and he likely will say Seattle can win in 2022 because they are going to have a great running game and a good defense. But what would make that defense better is having cornerbacks capable of playing press coverage and Gilmore, even though Gilmore will be 32 years old near the beginning of the 2022 season.
Gilmore made the Pro Bowl last year with the Panthers though he played just half the season. Gilmore hasn't missed making the Pro Bowl since 2017. He is still very good. Plus, Gilmore has good size, the kind Pete Carroll likes. So why isn't Seattle seemingly interested in Gilmore?
There could be two reasons. One is that Seattle simply doesn't want to spend the money to sign Gilmore. Last year for the Panthers for half a season's work, Gilmore made $6,091,505. This equates to $12 million over a full year, right? However, I am unsure any team is going to offer Gilmore that much due to his age.
Still, the Seahawks could easily offer $10 million a season to Gilmore. The team has the money and if it's a two-year deal maybe Gilmore would be interested.
That said, the real reason Seattle isn't chasing a high-profile cornerback could be that the Seahawks plan on addressing the issue at the position long-term in the draft. Maybe by taking someone like Sauce Gardner from Cincinnati or Derek Stingley, Jr. from LSU. This way might not make the team better in 2022 as young CBs need to adjust to the NFL but should make the team better long-term.